Ghana, which is the country in the west of Africa, is a promising direction for starting a GSM traffic termination business. To make your investment pay off quickly, it is important that you buy SIM-cards with a favorable tariff plan.
Vodafone is the largest mobile operator in Ghana. It is second to MTN, the Ghana market leader. Many terminators use Vodafone packages for landing GSM traffic because the operator offers the cheapest rates.
Make more money doing the GSM termination in Ghana

! GoAntiFraud will enable you to protect the SIM-card from the fast lock and computerize workflows to save time. We provide professional assistance in setting termination logic to the peculiarities of your country, so you can get more profit!
Vodafone operator offers 10 prepaid packages. Only five of them are the most advantageous in terms of GSM termination. All of them are suitable only for calls in the Vodafone network, with higher rates to call the numbers of other operators.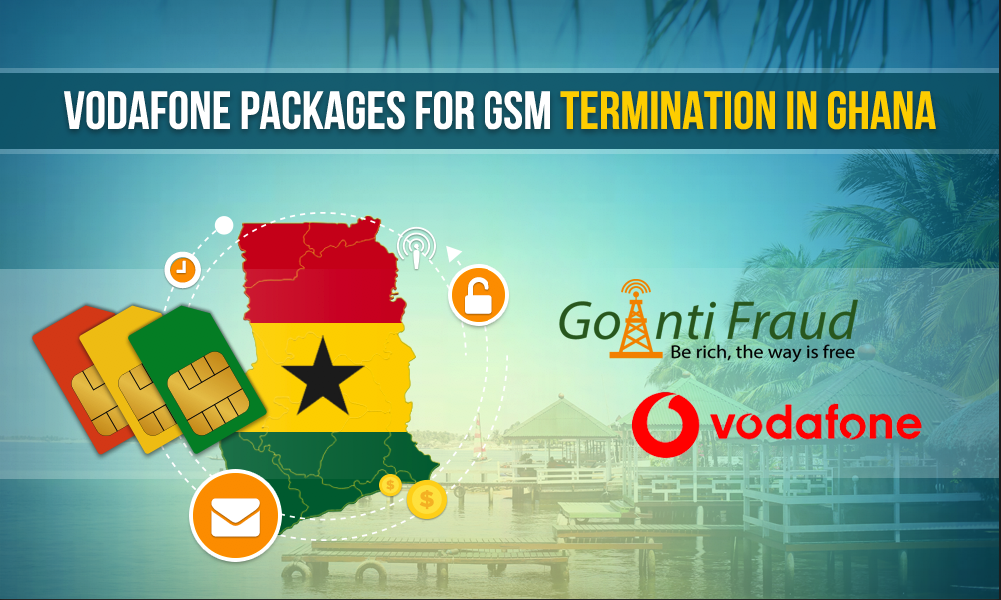 Prepaid packages:
· Red Life Weekly. By connecting the tariff plan for $1.51, you get 300 free minutes to be used within 7 days.
· Red Rush. For $6.3 you get 1,000 free minutes, and they are valid for a month. Of course, the SIM-cards will not work 30 days since their lifespan is one week on average.
· Red Hott. By paying $15.11, you can use 2,000 free minutes within a month. That's enough for termination for 6 days.
· 2 Ghana. If you handle a small amount of traffic in Ghana, this tariff plan will be perfect. For $0.5 operator provides 250 free minutes for 2 days.
· Supreme Lite Weekly. The service cost $1.26. The subscriber is given 400 free minutes for 7 days. Bonuses are also provided: an amount of money made doubles as you top up.
The most favorable package in terms of VoIP GSM termination is Red Rush. With this tariff, you will spend $ 2.1 per day if you have one 8-channel GSM gateway operating for 5 hours. You will have to spend $ 16.8 a day for cellular communication. This is about $336 per month. You should also take into account the cost of new SIM-cards every three days (about $56). Thus, when the average price per minute is $0.1849, you will receive an average income of $8,840 per month, using Vodafone Red Rush to terminate in Ghana.
For profitable VoIP GSM termination in Ghana

, you need a complete solution for the productive performance of your equipment. We invite you to take advantage of opportunities of GoAntiFraud to start making more money! At your disposal you will have efficient tools to extend the lifespan of SIM-cards, software to computerize operations with SIM-cards, personal account to remotely control all the equipment from anywhere in the world.