The first mobile phones were introduced in Ghana in 1992. Then the telecommunications market began to develop in the country. It has increased significantly over time. Today in Ghana, there are 4 main mobile operators - MTN Ghana, Vodafone, Tigo, and Airtel.
The largest of them is MTN. It covers 50% of the market. About 11 million local residents used the services provided by the operator. Vodafone accounts for more than 4 million mobile phone users; the company is the second largest after MTN. They are followed by Tigo with up to 4 million subscribers and Airtel with 2.5 million customers.
MTN packages are most suitable for GSM termination in Ghana. Since the operator provides most significant volumes of traffic, the terminator can make money on as many calls as possible. This provider offers the Prepaid So Cool package, which is beneficial for the traffic termination. Using it, you will spend an average of $65-80 per day for cellular communication and about $ 32 per month for the purchase of new SIM-cards if you have one 8-port GSM gateway operating for 5 hours. The Vodafone Mobile tariffs are cheaper: Red Rush, the most convenient package, will give you the minimum cost of calls - about $17 a day. In addition, you should take into account the costs of new SIM-card - about $56 a month.
Make more money doing the

GSM termination in Ghana

! GoAntiFraud will enable you to protect the SIM-card from the fast lock and computerize workflows to save time. We provide professional assistance in setting termination logic to the peculiarities of your country, so you can get more profit!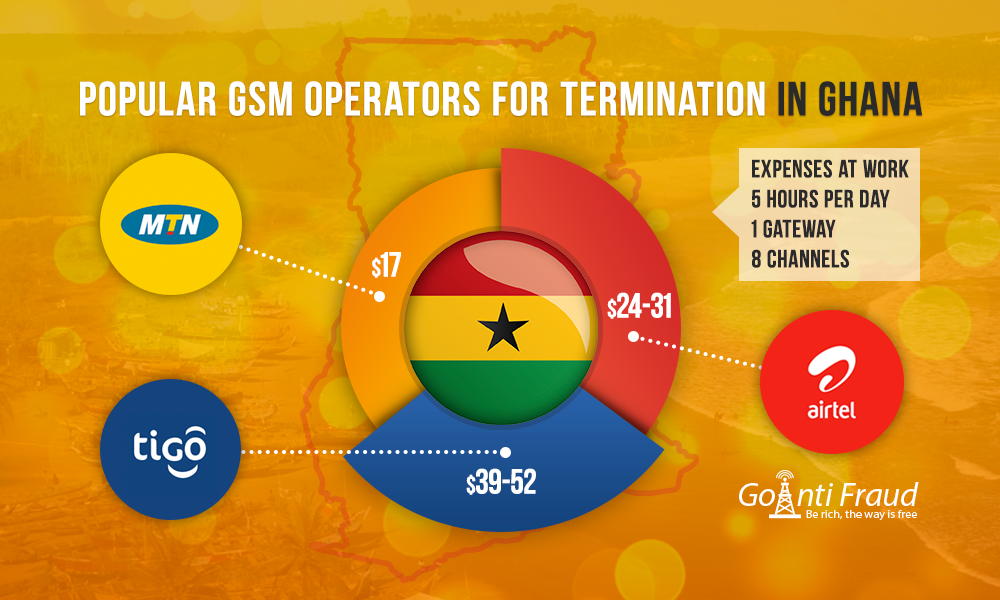 The most favorable prepaid package from Tigo is Double Delight. When funding the account you get a bonus - the amount of money doubles. Calls in the Tigo network cost $0.032 per minute, calls to numbers of other operators $0.043. If you have one 8-channel GSM gateway running for 5 hours, you will spend 39 to 52 dollars a day. The purchase of new SIM-cards will cost about $32, with an average lifespan of 7 days.
Airtel offers several prepaid tariff plans, which are suitable for profitable GSM termination. The most profitable of them is Kasa Saa Extended, providing for tripling your money after each top-up. Tariffs for calls are $ 0.03 per minute on the Airtel network and to MTN numbers, $0.038 to the other operators. Using this package, the communications costs amount to an average of $24-31 a day. Monthly costs to buy new SIM-cards amount to about $32.
Some terminators prefer to use the cheapest tariff plans for landing calls, however, it is better to choose packages offered by all the major operators in Ghana.
For profitable

VoIP GSM termination in Ghana

, you need a complete solution for the productive performance of your equipment. We invite you to take advantage of opportunities of GoAntiFraud to start making more money! At your disposal you will have efficient tools to extend the lifespan of SIM-cards, software to computerize operations with SIM-cards, personal account to remotely control all the equipment from anywhere in the world.