Ghana was the first African state to connect to the World Wide Web. This happened in 1992, and since then, the Internet has spread rapidly across the country. In 2014, the average download speed here was 5.8 megabits per second. This enabled Ghana to occupy the third place among African countries in Internet speed, and 110th in the world (out of 188).
To date, the country has 165 licensed ISPs. Access to the network in Ghana is mainly concentrated in major cities such as Accra, Cape Coast, and Kumasi. Despite the rapid development of the market of Internet services, Internet access in the country is very due to insufficient coverage. NCS is the first Internet service provider in Ghana. It was founded in 1988. Today, the most popular operators are MTN Ghana, Internet Ghana, and Africa Online.
Make more money doing the GSM termination in Ghana

! GoAntiFraud will enable you to protect the SIM-card from the fast lock and computerize workflows to save time. We provide professional assistance in setting termination logic to the peculiarities of your country, so you can get more profit!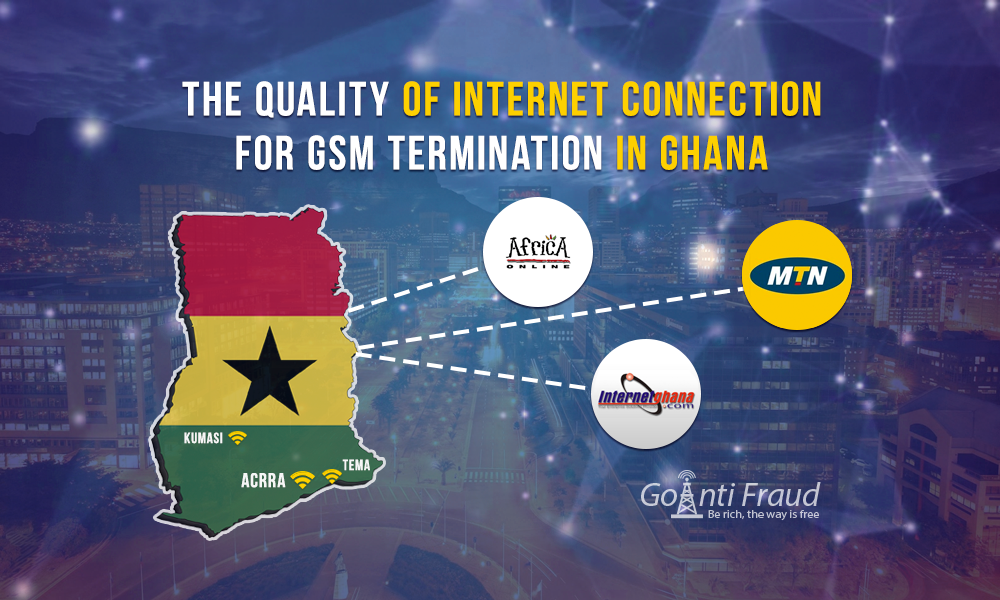 The average data rate in Ghana is 151 kilobytes per second and upload speed 1.1 megabytes per second. Scancom (MTN) provides 481 kilobytes per second, the most high-speed Internet connection. This is sufficient for normal operation of the 8-channel VoIP GSM gateway. MTN offers 50 GB per month for $150 and 100GB for $200.
The most high-speed Internet can be found in cities such as Accra, Tema, and Kumasi. Speed can reach 500-900 Kbps. To connect to the Internet in Ghana, you should produce certain documents to the provider. They are an identity card, residence permit, proof of your place of residence in the country, as well as the bank statement. If you are going to engage in GSM termination to Ghana, you have to check coverage in your area beforehand. In rural areas, it is non-existent. Not all cities are not covered either.
For profitable VoIP GSM termination in Ghana

, you need a complete solution for the productive performance of your equipment. We invite you to take advantage of opportunities of GoAntiFraud to start making more money! At your disposal you will have efficient tools to extend the lifespan of SIM-cards, software to computerize operations with SIM-cards, personal account to remotely control all the equipment from anywhere in the world.