In Somalia, mobile communication is a leading sector in the telecommunications market. It is represented by 7 competing mobile operators, offering the lowest tariffs for local calls to all African countries. By the end of 2013, more than 52% of local residents (with a population of more than 9 million people) use cellular communication in Somalia.
The owner of the GoIP gateway 16 can make good money in this country because a lot of international traffic goes here. A minute of the conversation costs 22 cents on average. However, Somali mobile operators are investing a lot of money in AntiFraud systems that track business voice over ip in GSM termination.
To combat the antifraud there is an efficient solution - GoAntiFraud. We provide our customers with efficient tools to simulate the human behavior on the network. Using migration and rotation of cards, generating incoming calls and SMS, performing USSD queries and so on, you will greatly reduce the number of blocked SIM-cards.
As mentioned above, there are 7 mobile operators in Somalia. The most popular among the population is Hormuud, so it is worth using packages of the cellular company for GSM termination.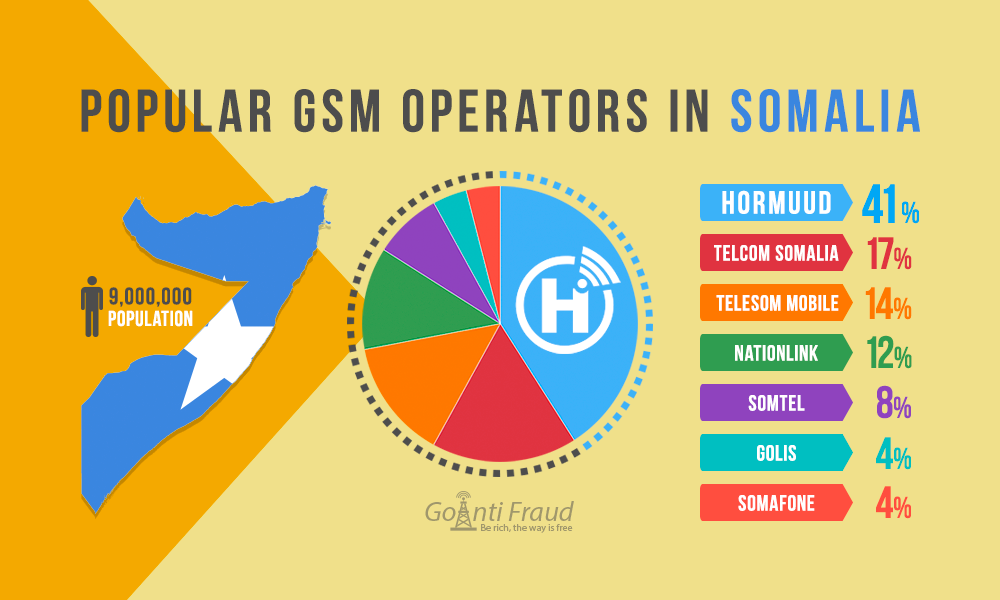 Let's see how much traffic each of the operators handles:
Hormuud (2.38 million inhabitants, 41% of the population, use the operator services).
Telcom Somalia (1 million - 17%).
Telesom Mobile (0.8 million - 14%).
Nationlink (0.71 million - 12%).
SomTel (0.46 million - 8%).
Golis (0.24 million - 4%).
Somafone (0.2 million - 4%).
Hormuud offers many lucrative prepaid packages for users to make local calls. The "Anfac Package" tariff plan is ideal for business voice over ip Somalia to carry out GSM termination. After paying $5, you get 200 minutes for calls within the country.
To carry out GSM termination more efficiently in Somalia, you should connect your equipment to GoAntiFraud. We offer proven tools to protect against the calling and analytical AntiFraud systems. Using white and black lists, as well as service functions to simulate a human behavior, you can increase the profit carrying out the VoIP GSM termination.