Côte d'Ivoire is a country attractive for tourists, thanks to the tropical climate and white sandy beaches. Basically, the French visit the country. Due to this, the country handles a lot of international traffic, which provides good opportunities to make money doing a business voip in GSM termination. And the traffic is quite expensive – a minute of the call costs 27 cents on average.
In Ivory Coast there are 7 mobile operators:
Orange;
Moov;
Comium;
KoZ;
Oricel;
Warid.
For a successful termination on the Ivory Coast it is important to protect the cards from blocking by cellular operators. You can connect the gateways and SIM-banks to GoAntiFraud to get more profits. With the help of our tools to simulate human behavior, GSM termination becomes efficient.
The country has more than 21 million people using the services of mobile operators. MTN is the market leader; in addition there are two biggest operators: Orange and Moov. The three providers are constantly competing with each other.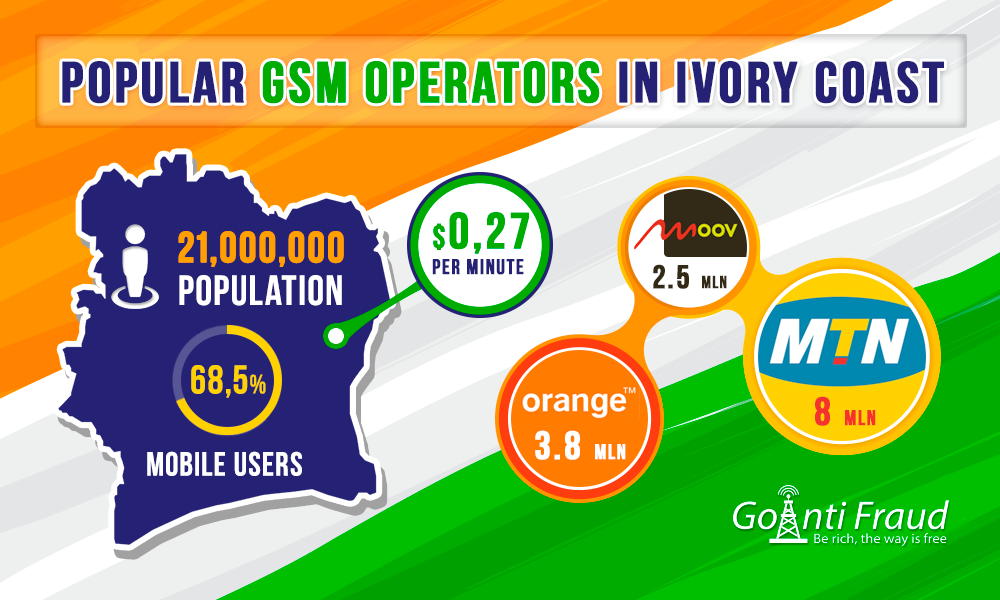 By purchasing equipment of the cheap voip gateway category, you can make good money in the Ivory Coast. But you need to intelligently select the operator, whose SIM-cards you will use for GSM termination. The best option is to land calls through MTN cards as the largest operator in the country. So you will be able to have the maximum amount of traffic paid off.
You should choose an appropriate package to do termination voip business in Ivory Coast. MTN Smart for a month is the best. There are 2 types of packages that provide 120 and 360 minutes, which cost $15 and $49 respectively. You can choose the best package for you, based on the number of minutes that you terminate within a day.
SIM-cards, used for the GSM termination, are quickly blocked by cellular operators. To reduce the SIM-lock, you should connect to GoAntiFraud. We can help you customize the logic of termination in accordance with the peculiarities of the country, where you run the business. We have NewBusiness, a complete turnkey solution, for novice entrepreneurs.