About 9 million subscribers use the services of the mobile operator MTN in Côte d'Ivoire. The packages of this provider are best suited for GSM termination because this cellular company handles the bulk of international traffic.
The owner of the gateway sip gsm can get good profit in Côte d'Ivoire if he minimizes the cost of mobile communication for landing calls. To do this, you need to choose the right calling plan.
For GSM termination prepaid packages are ideal. MTN offers 7 tariff plans in Côte d'Ivoire, The Smart MTN tariff plan is the most suitable option for the terminator because the rest are either for the night or for international calls or for postpaid subscribers. MTN Smart is presented with several packages:
For 1day;
For a month;
Monthly Intense.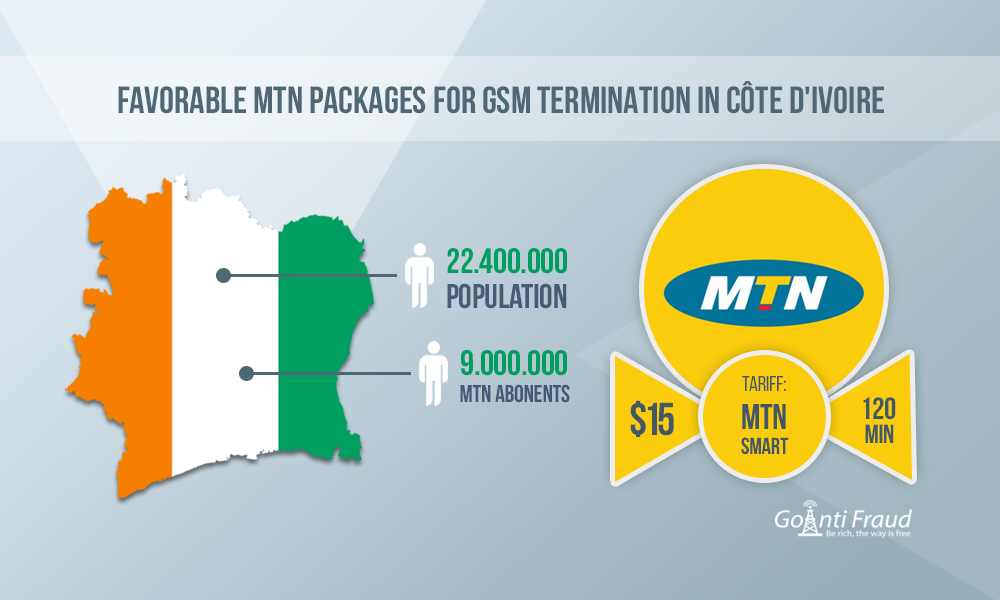 In order to make you more profit doing GSM termination in Côte d'Ivoire, you should connect the equipment to GoAntiFraud. Efficient tools to protect from the SIM-lock, remote control over gateways, as well as the computerization of work processes will allow you to make big profits in no time.
When paying $1.19 for MTN Smart package for one day, you get 12 free minutes. It's too little for a successful termination, and having to reconnect the service each time is inconvenient. When you order a package for a month, you have 120 minutes at $15.35. MTN Smart Intense provides 360 minutes at $49.45.
A terminator can select both the standard monthly package and Intense. In any case, provided minutes will last for 1 day of termination (if you have the gateway operating 2 - 6 hours a day). Given that the lifespan of SIM-cards can be from 2 hours to 7 days, these packages are ideal for business.
Entrepreneurs, who are interested in call termination business proposal in Côte d'Ivoire, can calculate approximate profit when employing MTN Smart packages. Using a standard tariff plan for a month and terminating for 2 hours a day via a single 8-channel gateway, you can make about $4,800 a month. The MTN Smart Intense monthly package income, you will make about $14,300. As you can see call termination business proposal in Côte d'Ivoire is very attractive for start-ups.
It is known that the Antifraud systems are beginning to watch the behavior of the SIM-card as soon as it is activated. If there is increased activity, the operator immediately blocks the card. For protection against the SIM-lock, we recommend connecting to GoAntiFraud. You will have proven tools for the simulation of human behavior on the GSM network at your disposal.