United Arab Emirates are a fairly popular destination for VoIP GSM termination. Demand for routes to land calls is high here. The average amount of transit traffic supplied by companies is 80 thousand minutes. Average voip termination rates in the Arab Emirates are $0.11 per minute.
The UAE is the largest oil producer and exporter. In addition, the country is very attractive for tourists. Only in 2013 it was visited by more than 15 million foreigners. This led to a steady flow of international voice traffic to the Emirates, which opens up broad prospects for an ownerof the addpac gateway or other VoIP equipment. With a population of more than 9 million people, 13,750 million mobile subscribers are registered in the country (as of 2015). This means that subscribers use several SIM-cards to make calls.
If you are just starting your way in GSM termination - start it with GoAntiFraud! For beginners, we offer a complete NewBusiness solution that includes a set of necessary VoIP equipment and software for automation of business processes and proven tools to protect against AntiFraud systems. Over 2,000 customers in 31 countries have succeeded in the GSM termination using our service. You can become one of them!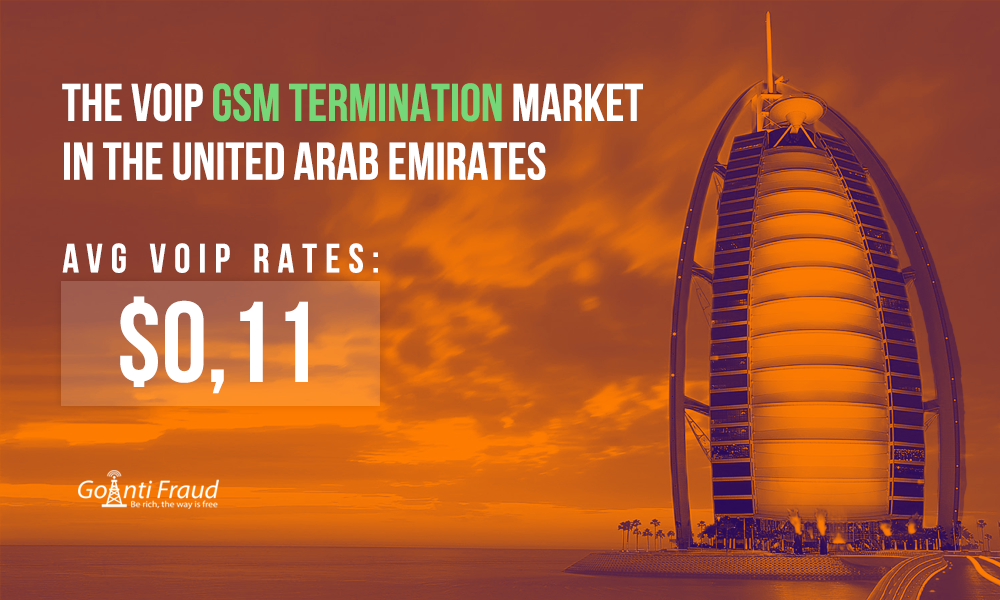 The largest mobile operator in the United Arab Emirates is Etisalat. Packages of this provider are ideal for GSM termination, increasing your chances to have the maximum amount of traffic paid off. By 2006, Etisalat was the only company on the market that provided cellular services. To date, the country has 8.29 million subscribers of the operator. The second largest mobile phone provider is Du, with a subscriber base of 6.65 million. Both operators offer prepaid packages. You can choose a tariff plan of local calls at $0.054 per minute.
When voip termination rates are $ 0.11, a terminator can make good money by placing GSM gateways in the UAE. If you have an 8-channel gateway operating for eight hours, you can make more than 4,000 dollars a month, minus the Internet connection costs.
You can get a stable income doing GSM termination, if you minimize blocking of SIM-cards by mobile operators. AntiFraud in the United Arab Emirates is hard enough, so you need GoAntiFraud tools to simulate human behavior. Automatic top-up, USSD requests, incoming traffic generation, simulation of moving around the city will allow you to efficiently terminate in the UAE and get a handsome profit.