Kazakhstan attracts terminators with low rates for local calls to make good money at about $ 0.06 for the voip call price per minute. With proper choice of anti-sim block solution, you can make 2 thousand dollars a month to start with, using the regular equipment. The country has a lot of international traffic passing through such major GSM operators as Kcell and Beeline.
But for the stable operation of your voip gateways it is important to ensure there is a good Internet connection. In Kazakhstan, the level of Internet coverage was 61% as of 2016. 3G and 4G are the most developed market of mobile Internet, while access to broadband Internet is very limited. It is planned that the 4G network will operate in most cities of Kazakhstan by the end of 2016.
Main Internet providers in Kazakhstan:
Kcell (3G networks);
1-gigabit (cable access);
Alma TV (cable access);
Beeline (3G, cable access);
DigitalTV (WiMax).
GoAntiFraud is a complete solution for a profitable GSM traffic termination in Kazakhstan! Taking advantage of our service, you can mask the SIM-cards from the Antifraud systems, thereby increasing your income. Connect your gateways and SIM-banks to GoAntiFraud or order a turnkey solution for beginners - NewBusiness. GoAntiFraud is compatible with GoIP equipment by EjoinTech & ChinaSkyline, and Topex.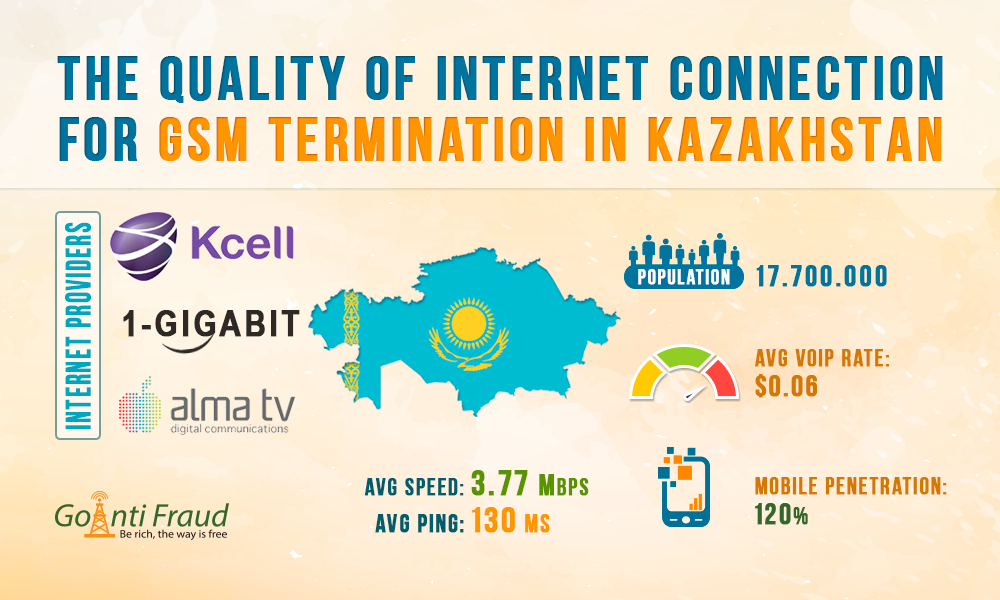 The average speed of the Internet in the country is 3.77 Mbit/s (download speed) and 1.81 Mbit/s (upload speed). The best "fastest" cities are Astana, Semey, and Kyzylorda. The average value of the ping in Kazakhstan is 130 milliseconds. This value is not too good because the regular rate should be 100 ms. With this Internet connection, there can be a suspension. In terms of Internet speed Kazakhstan is well suited for VoIP termination when the required value is 32 kilobits/second for 1 channel. The main thing is to provide anti-sim block Kazakhstan to reduce your business costs.
4G services cost about $29 for 35 gigabytes of Internet. The ISPs that provide broadband access to the global network basically do MBs charging. The cost of 1 megabyte is about 0.3 tenge ($0.00089).
When there is MBs charging, it is better off using the SBO module from GoAntiFraud. It 'squeezes' Internet traffic three times, with the quality of voice traffic remaining at the proper level. This will allow you to spend less money on the Internet, thereby reducing your business costs doing GSM termination.
To make money doing GSM termination in Kazakhstan, you have to skillfully evade AntiFraud systems. Connect your equipment to GoAntiFraud to protect your SIM-cards from the lock! Proven tools to simulate human behavior can help you get more profit from VoIP termination.