Cellular services market in Botswana is one of the most developed in Africa. The mobile penetration rate is over 170%. Locals use several SIM-cards of several operators.
The largest companies that provide cellular communication services - Mascom, Orange, and beMobile. The high level of development of the mobile sector provides excellent opportunities to make money terminating traffic in Botswana.
The country's GSM operators also offer Internet services like 3G, WiMax, LTE, DSL, in competition with other providers. In recent years, the number of Internet users has increased significantly in Botswana. With a population of 2.3 million, the penetration rate reached 21.4% (492,787 connections as of 2016).
The increase in the number of Internet users is primarily due to the improvement of international communication. Historically, Botswana depended on other countries in terms of international bandwidth. In 2011 and 2012 additional cables have been installed in the region, which improved the competitive situation in the Internet services sector, and ensured the reduction of tariffs by 70%. The Internet has become more affordable to local residents.
GSM termination using Topex equipment can bring more profits! Connect your gateways and SIM-banks to GoAntiFraud to prevent the SIM-block, computerize VoIP-systems, and remotely control all Topex gateways and SIM-banks from all over the world.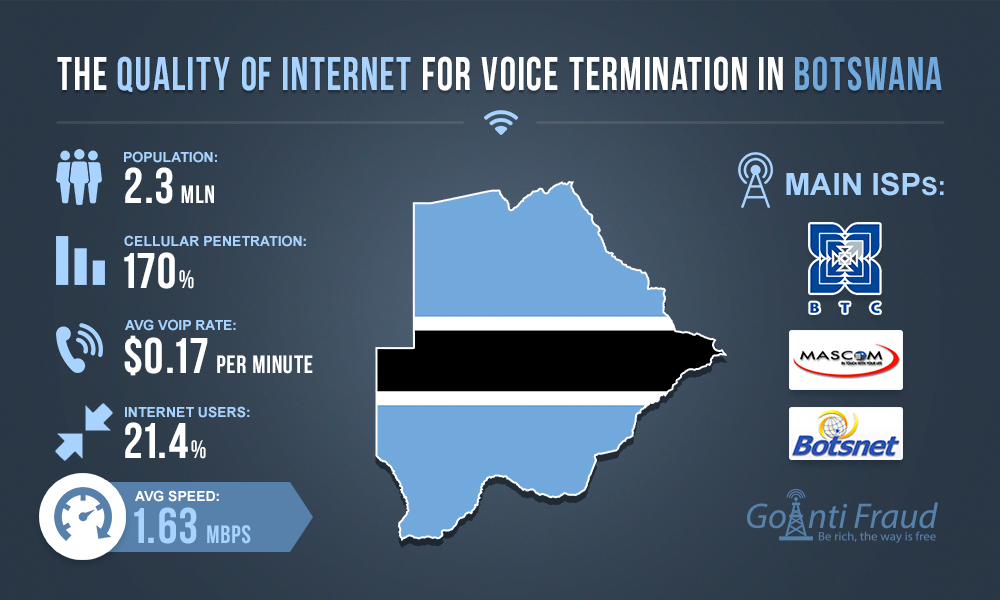 Major ISPs that provide broadband Internet in Botswana access are:
Botswana Telecommunications Corporation;
Mascom Wireless Ltd;
Botsnet;
Mega Internet;
Africa Online;
Broadband Botswana Internet;
Online Botswana.
The Internet speed indicators in Botswana are as follows: download speed is 1.63 megabytes per second, upload speed - 0.19 megabits per second. Best "fast" cities are Gaborone, Orapa, and Maun. You should choose large settlements to place pbx voip gateways.
As you can see, the Internet in Botswana is still underdeveloped, but the termination of voice traffic is possible. With an average rate of $0.17 per minute, you can make good money. However it is better to install equipment that has a small number of ports, since each channel of a GSM gateway needs 42 kilobytes per second.
Do you want to make more money terminating with Topex gateways? Connect your equipment to GoAntiFraud. We can help you customize the logic of termination in accordance with the features of your country, and your business will make you more money!