Velcom is the second major GSM operator in Belarus, whose subscriber base has around 5 million members. By purchasing this cellular provider's SIM-cards to terminate, you will get a good opportunity to terminate international traffic and make good money. The main thing is to choose the right tariff plan, to maximize the number of cheap local calls.
Velcom like the rest Belarus operators offer its customers very attractive conditions. Most packages are unlimited and inexpensive. But the terminator should consider that the Republic of Belarus has the very rigid attitude to this business, and the SIM-cards are blocked very quickly. In Belarus, the numbers you use to terminate calls "live" a maximum of three days. Therefore, it is necessary to take care not only about the goip equipment setting, but also the reliable protection of SIM-cards against the antifraud systems.
Velcom offers subscribers a large number of prepaid packages to make calls and use the mobile Internet. Terminators are more interested in making calls, but this statement has great offers that combine the ability to make unlimited calls in conjunction with the use of Internet services.
Want to start the GSM termination business in Belarus? We offer you NewBusiness package for beginners, which will ensure you have a successful start. The solution from GoAntiFraud includes the necessary VoIP equipment, tools to protect against the SIM-block, as well as software to computerize the operation and remote control over GSM gateways.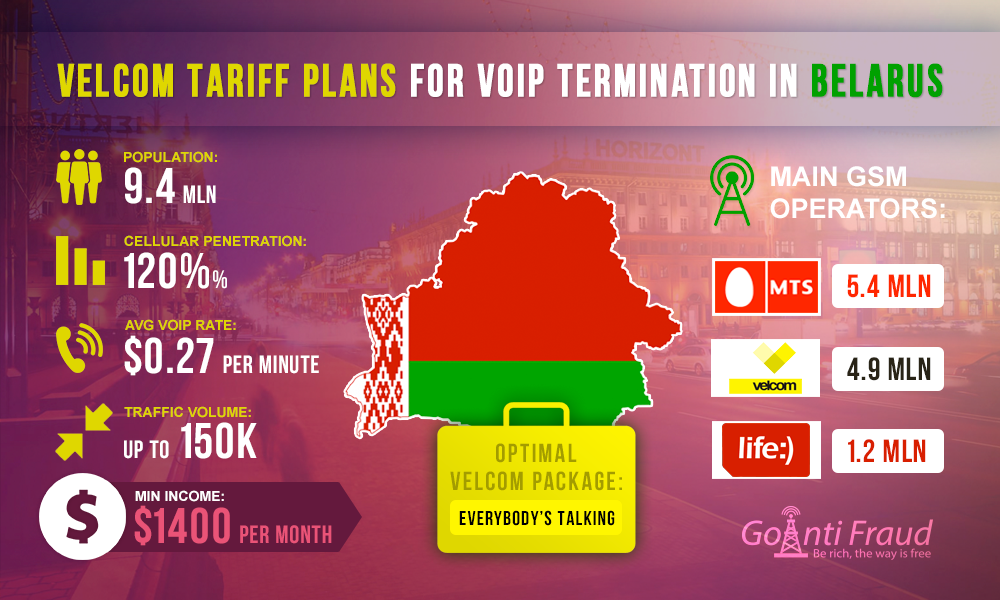 Optimal Velcom packages for termination:
Comfort. For $5 per month you get unlimited calls in the 3G Velcom network and 100 minutes for calls to all operators.
Comfort 2. The subscription fee is $7.55 and allows making unlimited calls in 3G Velcom network. It also provides 200 minutes to all networks.
Comfort 4. Paying $8.56, you can make unlimited calls in 3G Velcom network as well as get 300 minutes to all networks.
Comfort 8. For $11, the subscriber gets 400 minutes to all networks and NL in 3G Velcom network.
Smart Infinite. You get the NL for Velcom numbers and unlimited internet traffic for $25.28.
Business Class. The subscription fee of $50.66 makes it possible to make unlimited calls to Velcom numbers and use the Internet traffic unlimitedly. It also provides 1,000 minutes to make calls to other Belarusian operators.
The word for word. You need to make mandatory prepayments of $2.53. Afterward, the operator allows making free calls within the network after the first minute. The first minute will cost as little as $0.025.
Everybody's talking. Minimum prepayment is $2.53. You can call free of charge in unlimited quantities at any number of networks. This offer is designed specifically for new subscribers. The first minute of conversation is $0.025.
Just about everything. Prepayment of $2.53 for new users provides 750 minutes to make calls to the numbers of all Belarusian operators.
The most favorable package to terminate traffic is "Everybody's talking". Regardless of the numbers of the operators you are going to make outgoing calls, one minute within the country will cost you as little as $0.0004 if you work 5 hours a day.
With an average voip minute being $0.27, you can make about $1,500 a month via the "Everybody's talking" package from one channel. In Belarus, SIM-cards are quickly blocked, so be prepared to buy new ones. It is also worth considering that to purchase mobile numbers in Belarus, you have to conclude the agreement and produce your passport.
Your GSM termination business in Belarus can bring you more profits! Connect your equipment by EjoinTech & China Skyline, GoIP or Topex to GoAntiFraud to provide 100% productivity. You'll make more money as soon as the first months of work with the service.