Kenya is quite an attractive destination for the termination of voice traffic. The average rate in the country is $0.13 per minute, which allows making good money on terminating calls as the communication is sufficiently cheap.
With a population of 46 million people, mobile penetration in Kenya has reached 87%. The mobile market is divided among the three main GSM operators - Safaricom, Airtel, and Orange, who provide an impressive amount of international traffic. Both the mobile penetration rate and the level of development of the market of Internet services are important to the owner of a dinstar sim bank and other VoIP equipment. To do a successful termination, you will need a high-speed and stable Internet connection.
The market of broadband Internet in Kenya has been transformed over the past few years. Investment in this area has increased, with 4 fiber optic submarine cable laid. Due to this, the country is no longer dependent on expensive and rather limited satellite services. Improving the capacity, in turn, provided the fall in wholesale prices. Today, a sufficiently large number of people has access to the broadband Internet as services become more affordable.
If you are just starting your way in GSM termination - start it with GoAntiFraud! For beginners, we offer a complete NewBusiness solution that includes a set of necessary VoIP equipment and software for automation of business processes and proven tools to protect against AntiFraud systems. Over 2,000 customers in 31 countries have succeeded in the GSM termination using our service. You can become one of them!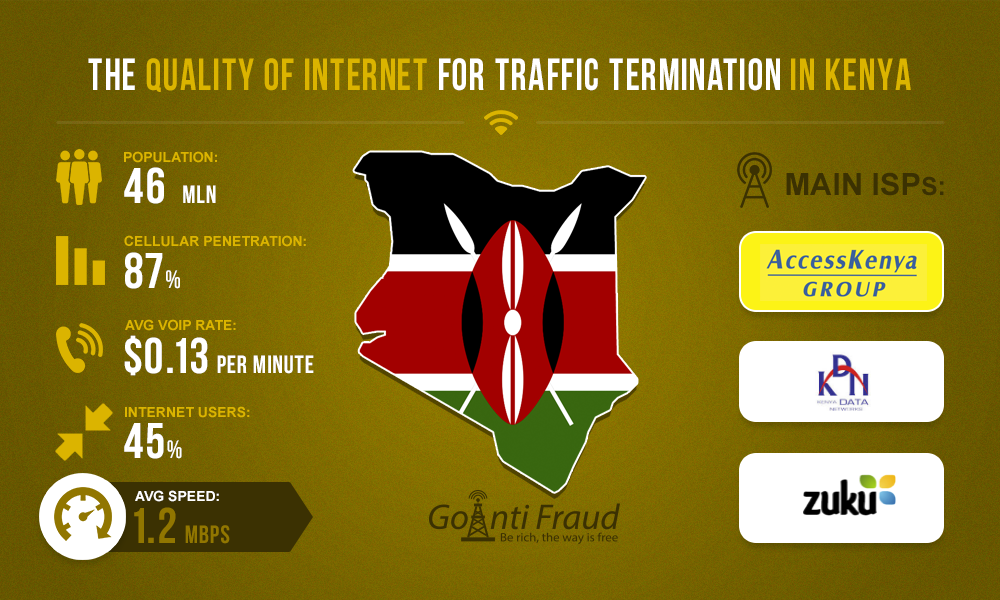 The total number of Internet users in Kenya is more than 21 million people, equivalent to 45% of the population. Since 2015, the growth of Internet penetration level has been 3.7%. Access to the global network is mainly available in large cities. The number of users in relation to the global figures is 0.6%.
Major Internet service providers in Kenya are:
AccessKenya;
Kenya Data Networks;
Wananchi;
Zuku;
Safaricom.
The average data rate in Kenya is 1.2 megabits per second. It is not a high figure, but it is sufficient for GSM gateways equipped with a small number of ports. We remind you that to do VoIP termination, the minimum connection speed should be 42 kbps per channel. You can find the fastest Internet in Nairobi - Kenya's capital.
By placing VoIP equipment in Kenya, for example, addpac ap100, the adjustment of which takes a minimum of time, you can make about $1,000 dollars a month. The main thing is to reliably protect your SIM-cards from the fast lock by operators' antifraud systems that monitor traffic termination.
Complete NewBusiness solution from GoAntiFraud is your successful start into the GSM termination! We provide ready-business on a turnkey basis, which includes a set of GoIP equipment by EjoinTech or ChinaSkyline, convenient software to computerize the operation and efficient tools to protect the SIM-cards from the lock. We also provide qualified technical support at every stage of your business. Our business model is based on the successful experience of more than 2,000 customers in 31 countries!