Umniah is the first operator in Jordan, providing a wide GSM coverage across the country. The operator leads in the number of subscribers, which is about 3.2 million.
Proposals for VoIP termination in Jordan are common on the discussion forums, mostly originator companies propose traffic provided by Umniah. Those wishing to place the VoIP-equipment in this country and connect to the operator are primarily interested in the most appropriate rates and terms for termination. Umniah offers a wide selection of prepaid packages for clients - a total of 16 tariff plans.
The most favorable package is Army 10 JD1-2. Terminating with an average load, one minute costs from $0.00057 to $0.0012. This range of tariffs is designed for intensive communication within the network. JD1-2 is valid only 5 days, allowing terminators to go unnoticed as the operator antifraud does not always have time to track them during this period.
GSM termination using Topex equipment can bring more profits! Connect your gateways and SIM-banks to GoAntiFraud to prevent the SIM-block, computerize VoIP-systems, and remotely control all Topex gateways and SIM-banks from all over the world.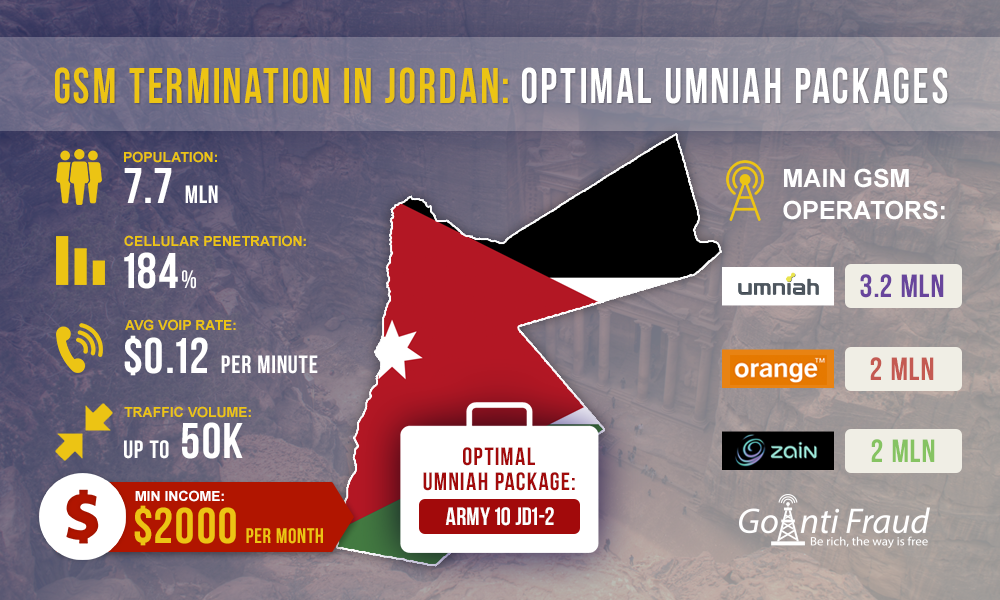 However, to connect to JD1-2, you need to make an advance payment for 5 days in the amount of $1.41 to $2.83, with the operator providing the opportunity to make free calls (2,500 on-net minutes). JD1-2 is perfect for termination.
Another two packages, Kul Bil Kul and Khaleek-Tabi3i-Extra-42, are a success with terminators. One minute of conversation, taking into account the average load (3-5 days for 5 hours) will cost $0.0031 and $0.0032. The only condition, when connecting to these packages, is full advance payment for a month - $ 2.83.
The Army 10 (JD1-2), Kul Bil Kul and Khaleek-Tabi3i-Extra-42 packages are much cheaper and more profitable than the rest of the tariff plans of the operator. Originators supply Umniah traffic at about $0.12 per minute. Based on the above data, the net profit for one minute will be about $0.124 - $ 0.127. Earnings per month per channel may be about $1,200. However, for efficient termination few install equipment that has 1-4 channels. Terminators mainly connect GOIP 16 or GoIP 32 gateways. And then the above amount per month can safely be multiplied by the number of the equipment ports.
Do you want to make more money terminating with Topex gateways? Connect your equipment to GoAntiFraud. We can help you customize the logic of termination in accordance with the features of your country, and your business will make you more money!