Developing countries are preferable for terminating voice traffic. Albania is not an exception. Doing GSM termination in this country, you can get a decent income if you apply a competent approach to doing business.
Most local residents use GSM-communication in Albania. With a total population of about 3 million people, the penetration rate of cellular communications reached 120%. There are three mobile operators in the country: Eagle Mobile, Vodafone, and AMC Mobile. Most users have several SIM cards.
On the other hand, due to the relief and landscape features of Albania, cellular communication is not available in some places. And although GSM covers more than 80% of the country, there are places where there is no signal. According to many tourists who have visited Albania, excellent GSM communication is available in large and resort cities. For this reason, it is better for terminators to install VoIP equipment in Tirana, Durres, Vlora, Elbasan, Shkoder, Sarande, Himar, Krue, and Berat. The average Internet speed in the country is 4 MB/sec, which is quite enough to connect a multi-channel gateway, for example, GoIP 32.
Connect to GoAntiFraud to obtain solid income in GSM termination. GoAntiFraud provides an opportunity for you to run a profitable business using efficient tools to simulate human behavior on the network. We can help you customize the logic of termination in accordance with the features of your country, in order to minimize risks of SIM-block.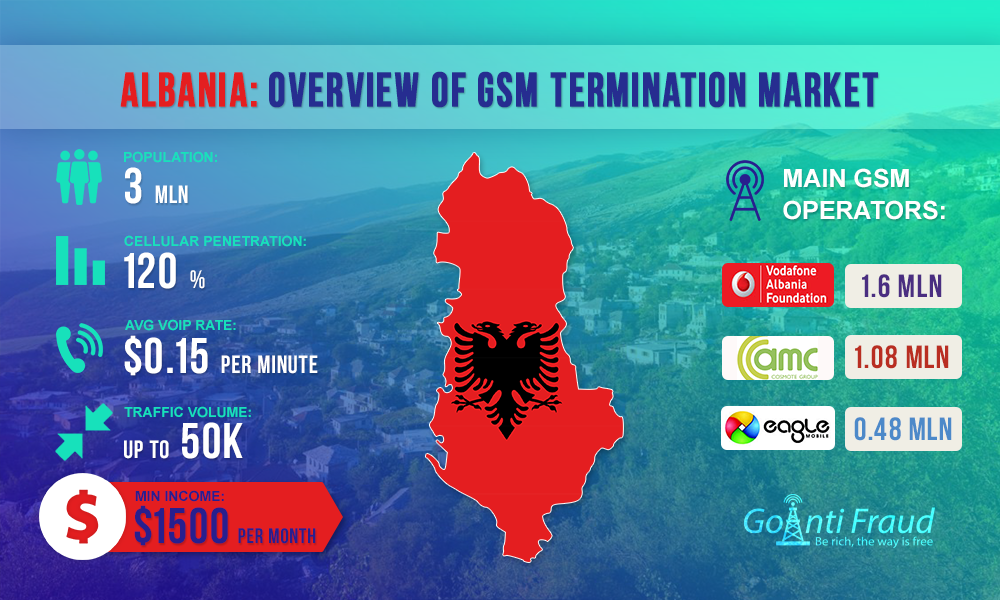 It is not difficult to calculate profit from termination in Albania. One minute of conversation via GSM-operators averages $0.00786. The average rate across the country for the same time will cost $0.15. A terminator's revenue per minute of traffic will be $0.143. And this is much more than in any other developing countries. If you work for 6-7 hours a day, the income will be $1,800 per month. And these indicators are for a single port of VoIP equipment. And if you install, for example, a GoIP 16 gateway, the above income should be multiplied by the number of ports.
In addition, the amount of traffic keeps increasing. Earlier, the originators provided up to 30K per month, today there are stable offers starting from 40K. This indicates an increase in demand for traffic termination in Albania.
Another argument in favor of termination in this country is that most of the population live below the poverty line and is not averse to leaving for work. Many Albanians immigrate to the neighboring countries of Europe. After all, in the last year alone about 2,000 people left, which exceeded the previous figures of the past.
Due to migration, the influx of international traffic to the country increases, which opens up wide opportunities for effective VoIP termination in Albania.
Do you want to start a GSM termination business? We offer you a turnkey solution for beginners - a comprehensive package that includes the tools to protect the SIM-cards from blocking, equipment produced by EjoinTech & ChinaSkyline, as well as a handy software to computerize the operation.