As of the first quarter of 2017, the population of Angola is 26.4 million people. With a mobile penetration rate of 60%, this African country is very attractive for investments in the sphere of GSM termination. Big amounts of international traffic flow to Angola.
For stably high incomes, it is important to protect your SIM-cards from mass lock by the operator, as well as provide a reliable and high-speed Internet connection.
The Internet penetration in Angola reached 23%, as of the end of 2016. It means that there are about 6 million users who have access to the Global Network. By 2012, the Internet services market was monopolized by the Angola Telecom provider, which owned the only international fiber-optic cable. In connection with these, services were expensive, and not every resident of the country could afford to connect to the Internet. Later, the second international underwater optical cable WACS was laid, which made the prices for the Internet services decrease.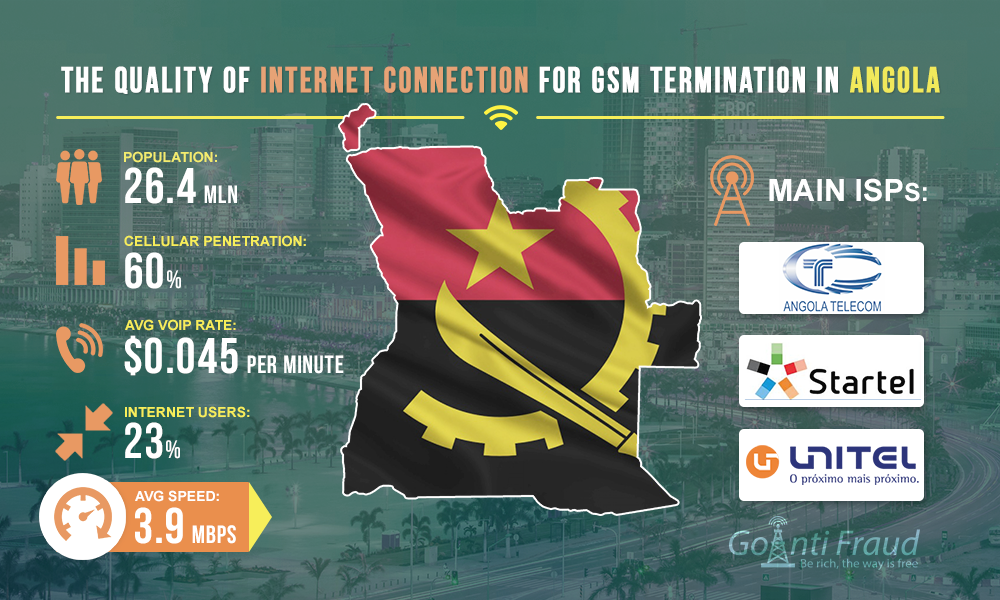 Boost your business profits in the GSM termination by ordering the GoAntiFraud Corporate Solution from! Choose the best package - Start Up, DeLuxe or Ultimate, and get the best opportunity to evaluate all the possibilities of the service! You can also buy GoIP equipment by EjoinTech & ChinaSkyline at low prices.
Today, in Angola, you can connect both cable and wireless Internet. There are following modern data transmission technologies used:
EV-DO;
Wi-Max;
3G/4G;
DSL;
FttP.
The major Internet providers in Angola are Angola Telecom, Mundo Startel, TATA Communications, and Unitel SA. The average data transfer speed in the country is 3.9 megabytes per second. To have a VoIP GSM gateway operating normally, it is necessary to provide a speed of 42 kilobytes per second for each channel of the quintum VoIP gateway or any other device. Accordingly, in Angola, multi-channel termination equipment can be installed.
There are programs for termination, which allow improving the network bandwidth. For example, GoAntiFraud offers its customers an SBO software module to optimize traffic. It compresses traffic packages three times, thereby allowing you to save on Internet payment and work with a bad Internet connection even. At the same time, the quality of voice data remains at a proper level.
GoAntiFraud Corporate Solution is an advantageous offer for GSM termination professionals! Complex solution for corporate customers will improve the profitability of your business many-fold! You will have professional advice from technical experts GoAntiFraud, tools for efficient protection against the SIM-block, SBO traffic optimization and other capabilities of the service at your disposal.