After the difficulties Uzbekistan experienced in 2012-2014, the telecommunications market in Uzbekistan began to develop rapidly in 2016. By this time, the penetration of cellular communication had reached 80%, with a population of 30.5 million people.
To date, Uzbekistan is the top 10 countries in the world in terms of the level of development of the mobile communications market. The number of connections exceeds 25 million, which is 250 times higher than in 2000.
At the moment there are 4 GSM operators in Uzbekistan:
Beeline (subscriber base - 10.6 million people);
UCell (more than 9 million subscribers);
UMS (formerly MTS Uzbekistan) - 1.1 million subscribers;
Uztelecom - 0.5 million subscribers.
The traffic volumes that the voip business providers offer to terminate reach 400,000 minutes. This opens up good opportunities for entrepreneurs who are engaged in re-filing. It is better off using major operators to do GSM termination. They are Beeline and UCell.
Cloud service GoAntiFraud is developed for profitable VoIP GSM termination. Connect your GoIP equipment by EjoinTech & ChinaSkyline or Topex to our service, and you will provide it with 100% productivity. Our experts will help you to quickly set up the GSM gateways and basic logic of termination.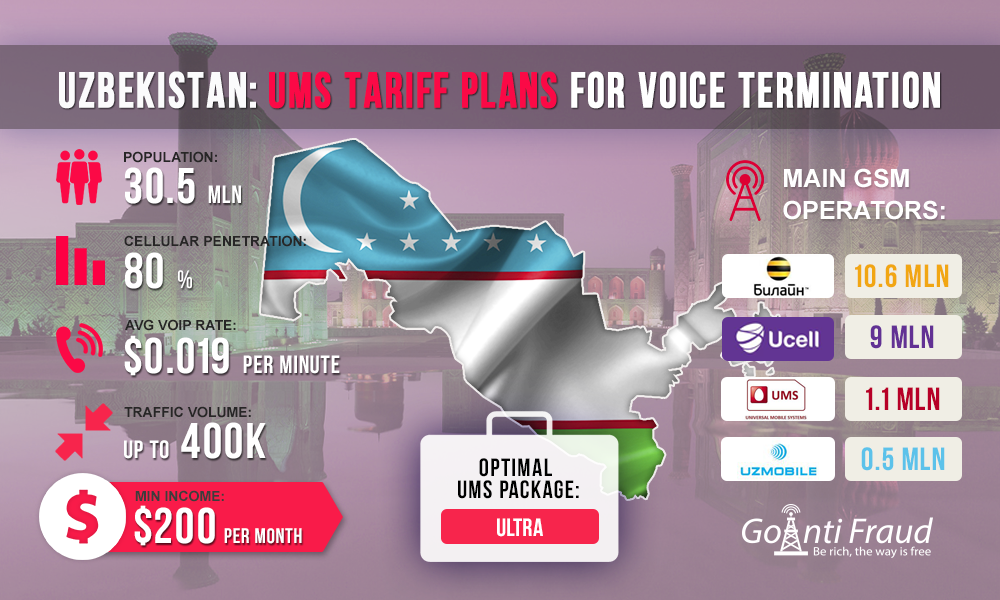 UMS SIM-cards are also popular among terminators. The cellular company offers only 14 prepaid packages, of which 3 are annual, which are not suitable for termination. The remaining 11 provide the following conditions:
Terminal ($3 per month, outgoing calls within the network - $ 0.03 per minute);
555 ($8 per month, 555 free minutes in the country);
Optima 333 ($6 per month, calls at $0.03 per minute, over the limit - 33 minutes in Uzbekistan);
777 ($10 per month, 777 free minutes);
Baraka (20 minutes a day for $0.2);
Perfect ($35 per month, unlimited in Uzbekistan);
Besh ($0.02 per minute for Uzbekistan, monthly fee is $0.05 per day);
Maxi New (1,000 minutes per month, for $15);
Veteran (only for old subscribers, 200 free minutes per month);
Ultra (unlimited within the network for $25 per month);
Absolut (no-limit on everything, including the Internet and SMS, for $150).
Suitable packages for termination are Optima 333, 555, 777, Maxi New, and Ultra. The choice of a particular tariff plan depends on the amount of traffic that you are going to provide. With an average lifespan of a SIM card being 7 days, it's best to connect an Ultra package. When terminating 600 minutes a day, the minute of a local call will cost $0.005. With an average rate of $0.018- $ 0.019, you will be able to earn approximately $200 per month via one channel, taking into account the cost of SIM-cards (a SIM-card in Uzbekistan costs about $10). When using multi-channel equipment, you can make a solid profit. It's important to prevent your SIM-cards against locking. GSM operators call terminators sim box fraudsters and use powerful analitic and calling antifraud systems.
We have developed GoAntiFraud service to improve the efficiency of GSM termination. Proven tools to bypass AntiFraud systems can significantly extend the lifespan of SIM-cards. With our service you can automate routine actions to work with SIM-cards and remotely control all equipment from a single personal account.