Terminators who wish to install GoIP equipment in Slovakia often wonder which GSM-operator is better. There are 3 cellular companies in the country: Orange Slovensko (GlobTel), T-Mobil (Eurotel Bratislava, NMT), and O2 (Telefónica Europe or Telefónica Slovakia).
With a population of 5.4 million people, the penetration rate of cellular communications in Slovakia reached 114%. And this is about 6.4 million subscribers. The market leader is Orange Slovensko. It is preferred by 5.8 million users, while 4.4 million people use T-Mobil services, and 3.2 million O2.
In Slovakia, GSM termination is quite a promising business. However, in this country, there are also pitfalls. The prices for local cellular communications remain prohibitively high, being $0.11 per minute on average. For a terminator, this is not very profitable, since terminators earn on the difference in the cost of the international minute and the minute of the local call.
If you are just starting your way in GSM termination - start it with GoAntiFraud! For beginners, we offer a complete NewBusiness solution that includes a set of necessary VoIP equipment and software for automation of business processes and proven tools to protect against AntiFraud systems. Over 2,000 customers in 31 countries have succeeded in the GSM termination using our service. You can become one of them!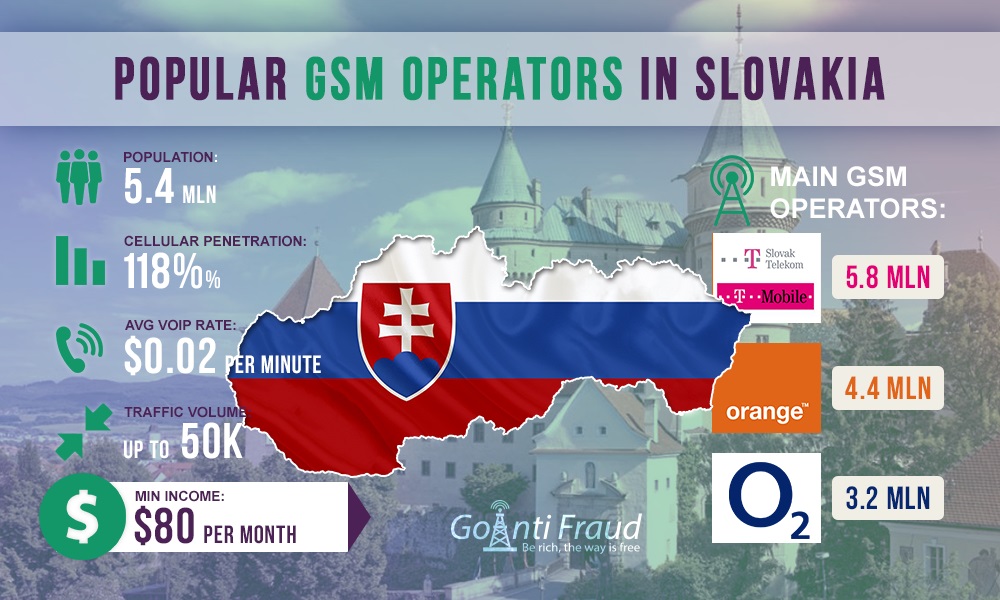 The most acceptable packages for termination are Max 20 Euro from Orange Slovensko and Happy L from T-Mobil. The monthly subscription fee for connection to the first of the above tariff plans is $21.73, to the second - $30.41. In this case, customers have the opportunity to communicate unlimitedly within the network across the country.
When you connect to Max 20 Euro, the minute of conversation will cost $0.01 and $0.026 when you decide to use Happy L (with an average load of equipment, 5 hours a day). At the same time, the cost of a SIM-card is about $10. However, subscribers of Orange Slovensko immediately get this money on their accounts.
Complete NewBusiness solution from GoAntiFraud is your successful start into the GSM termination! We provide ready-business on a turnkey basis, which includes a set of GoIP equipment by EjoinTech or ChinaSkyline, convenient software to computerize the operation and efficient tools to protect the SIM-cards from the lock. We also provide qualified technical support at every stage of your business. Our business model is based on the successful experience of more than 2,000 customers in 31 countries!