Orange Slovensko is the leader in the cellular communications market in Slovakia. Its subscriber base has about 5.8 million subscribers. This fact makes many terminators think which package from Orange should be used to terminate traffic.
The operator offers customers 11 prepaid tariff plans. But only three of them can be used for a profitable termination:
Max 20 €.
Max 30 €.
Max 40 €.
When connected to each of them, the mobile operator provides unlimited on-net calls. In Slovakia, VoIP costs from $0.01 to $0.02. They are quite low prices, which is a problem for beginners to make good money. After all, if you use Orange Slovensko packages, one minute of a local call will cost $0.11.
Do you want to start a GSM termination business? We offer you a turnkey solution for beginners - a comprehensive package that includes the tools to protect the SIM-cards from blocking, equipment produced by EjoinTech & ChinaSkyline, as well as a handy software to computerize the operation.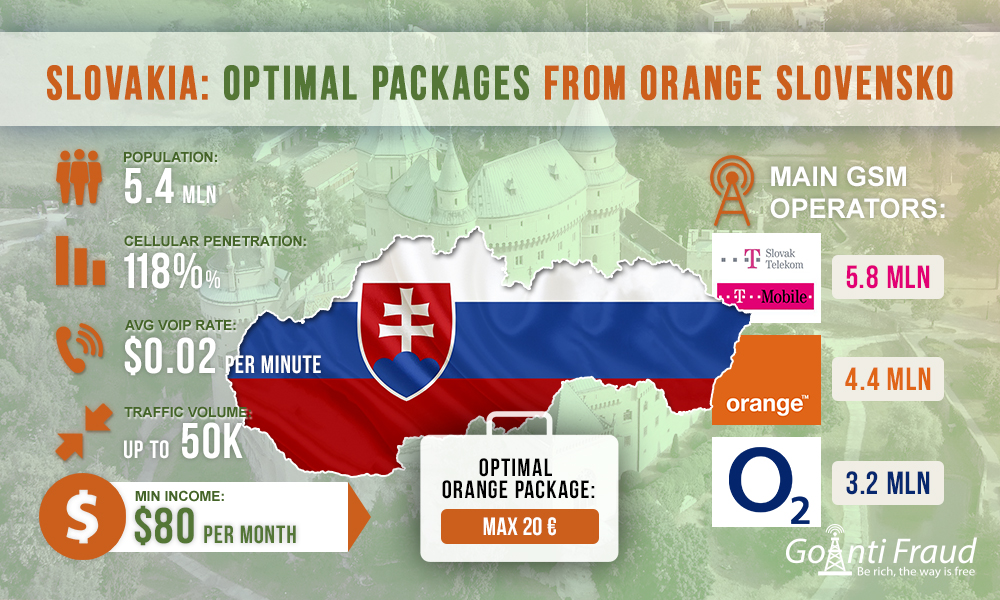 From this point of view, the most acceptable is Max 20 €. After you have paid as little as $21.73 for connecting to the package and $10 for a SIM-card, you will immediately get the same $10 to your account. Thus, the cost of purchasing new SIM cards pays off. When working for 5-7 hours a day, a minute of conversation will cost about $0.013. The profit per month will vary from $80 to $180 via each channel.
Most terminators dream of making a lot of money at the first time. To do so, they connect multi-channel equipment, for example, a GoIP 16 gateway. When installing such devices, the above profits are multiplied by the number of ports.
However, many terminators complain about the hard antifraud that Orange applies. Beginners are afraid of the rapid blocking of SIM-cards and the loss of money in Slovakia. Forums are full of reports on how quickly Orange Slovensko identifies the traffic termination.
However, there is a solution to this problem. You will be able to keep your SIM cards from blocking by anti-fraud systems and thereby increase profits. Connect the equipment to GoAntiFraud to gain access to efficient tools that simulate the behavior of a real subscriber.
Connect to GoAntiFraud to obtain solid income in GSM termination. GoAntiFraud provides an opportunity for you to run a profitable business using efficient tools to simulate human behavior on the network. We can help you customize the logic of termination in accordance with the features of your country, in order to minimize risks of SIM-block.