In Afghanistan, cellular communication is used by 80% of the population, which is 33.3 million people. The country has a low rate - $ .0.05- $ 0.08 per minute but large amounts of international traffic (60-100K) make it possible to turn a pretty penny terminating VoIP traffic. To make good money, it is important to use SIM-cards of a major operator and select the most favorable tariff plan.
The bigger the subscriber base the GSM operator has, the more traffic it provides. Therefore, the terminator can have more calls paid for. The largest cellular companies in Afghanistan are:
Roshan (6.5 million subscribers);
MTN (6.4 million);
Etisalat (3.5 ppm);
Afghan Wireless (3.5 million).
Expand capabilities of GoIP equipment by connecting it to GoAntiFraud! We provide proven tools to increase the efficiency of GSM termination. Our service will help extend the lifespan of SIM-cards, computerize workflows, and remotely manage GoIP equipment from anywhere in the world.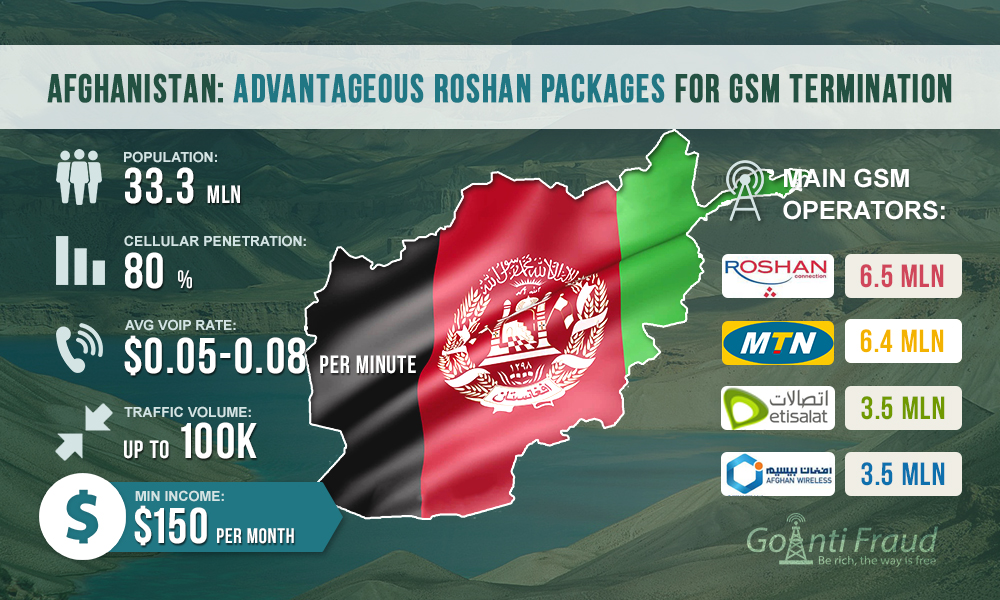 Roshan SIM-cards are the most popular for terminating traffic. A Roshan number costs $0.75, while the subscriber immediately gets $0.37 to the account. The standard rate for on-net calls is $0.04 per minute. Terminating 300 minutes a day, you can earn about $150 per month via one channel (taking into account the average rate of $0.065 per minute and the average lifespan of the SIM-card of 5 days).
There are also more profitable offers from Roshan. For the termination you can use the Aali Samimitariff plan that provides 3 options:
200 on-net minutes for $1.35;
400 on-net minutes for $ 1.95;
700 on-net minutes for $ 3.29.
Which one to choose depends on the amount of traffic that you are going to terminate. The best option is to terminate 200 minutes a day by connecting to Aali Samimi for $1.35. Then the minute of the local call will cost as little as $0.01. With this package, you can make more than $250 a month via one channel. By placing multi-channel equipment in the country, for example, addpac 16 port or 32-channel gateways, you can significantly increase your profits.
GoAntiFraud offers a comprehensive solution for best GSM termination using GoIP equipment. We cooperate directly with Hybertone manufacturer, so you can buy GoIP gateways and SIM banks at the lowest price. For those who begin doing VoIP termination, we offer NewBusiness solution that includes the required set of equipment, software for automation and tools to protect against the SIM-block.