The telecommunications market in Afghanistan has experienced a recovery from years of war and civil unrest. To date, the country has a well-developed mobile communications sector. GSM covers 90% of the territory, while 80% of the population (out of 33.3 million) use the services of cellular operators. This opens up excellent opportunities to make money terminating international traffic.
Before placing a primecell gsm gateway or other VoIP equipment in Afghanistan, you need to buy SIM-cards of a major operator. MTN packages are very popular. The subscriber base of this cellular company has more than 6.4 million users in Afghanistan. To make a profit, it is important to choose the most suitable tariff plan.
Connect to GoAntiFraud to obtain solid income in GSM termination. GoAntiFraud provides an opportunity for you to run a profitable business using efficient tools to simulate human behavior on the network. We can help you customize the logic of termination in accordance with the features of your country, in order to minimize risks of SIM-block.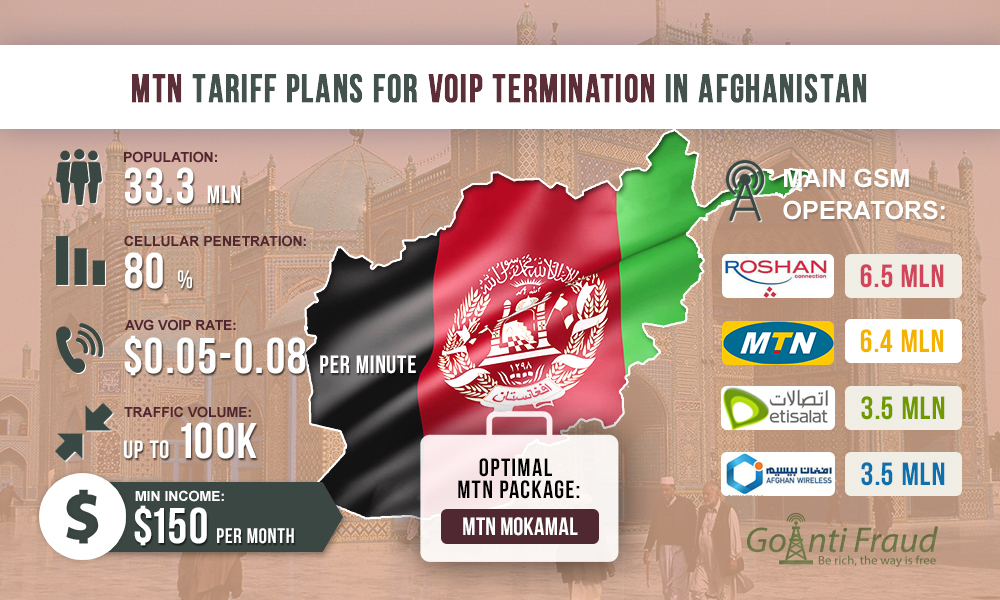 MTN offers 6 prepaid packages that are suitable for termination:
MTN SALAM. The cost of the SIM-card is $1.12, while $0.75 is immediately transferred to the subscriber's account. On-net calls, as well as calls to other operators' numbers, are charged at $0.04 per minute.
MTN ASHNA. For $1.12 you get 2 SIM-cards at once that have $0.37. It is advantageous to make calls only to numbers of subscribers with the same package. Calls to other numbers within the network are $0.04 per minute.
BALAY. Calls within the network cost $0.03 per minute. To switch to this tariff plan, you must first buy the MTN SALAM package for $1.12, with a credit of $ 0.75). The transition to this tariff plan will be free in this case.
MTN MOKAMAL. The cost of connection is $0.22 when switching from another tariff plan. You can immediately buy a SIM-card for $0.75 and get the same money to your account. The cost of calls within the network is $0.03 per minute.
MTN AASAN PACKAGE. The price of the package is $0.75, and the same amount immediately goes to your balance. One minute of the call to any local numbers will cost $0.04.
TALK MORE. All subscribers who use prepaid services can switch to this tariff plan. $0.03 will be withdrawn from the account on daily basis, and after the first minute, the conversation will be charged at $0.01 per minute.
The optimal package for terminating traffic is MTN MOKAMAL. Using it, there will be no expenses for the purchase of SIM-cards since the money spent on their purchase immediately goes to your account. At the same time, a minute an on-net call costs $0.03. The average rate in Afghanistan is $ 0.065, so you can earn about $200 from each channel if you work 5 hours a day.
For a stable income generation, it is important to protect SIM-cards from Antifraud systems. GoAntiFraud will help you to do so by providing efficient tools to simulate the behavior of a real GSM subscriber. Customers of the service also get the opportunity to automate work processes and remotely control VoIP equipment. At your disposal, there are training videos, goip 8 manual, the latest news from the world of GSM termination and other materials that will be useful for business.
Do you want to start a GSM termination business? We offer you a turnkey solution for beginners - a comprehensive package that includes the tools to protect the SIM-cards from blocking, equipment produced by EjoinTech & ChinaSkyline, as well as a handy software to computerize the operation.