In Slovakia, the there is a quite well-developed telecommunications market. The level of penetration of cellular communication in the country is more than 118%, with a population of 5.4 million people. Despite the low rate ($0.02 per minute), there is an opportunity to earn on GSM termination. To do this, you need to choose a favorable tariff plan and connect to high-speed Internet.
Slovakia has some of the highest rates of Internet penetration in Central and Eastern Europe. The number of users of the World Wide Web is about 4.47 million people as of 2016 (82.5%). There are a lot of Internet providers in the country that provide broadband access services. The most popular of them are:
Slovak Telecom;
Orange Slovensko;
UPC.
GoAntiFraud will allow you to minimize the risks of the SIM-lock in the GSM termination. Reduce business costs on the purchase of new SIM-cards by buying the service license and you will get more profit!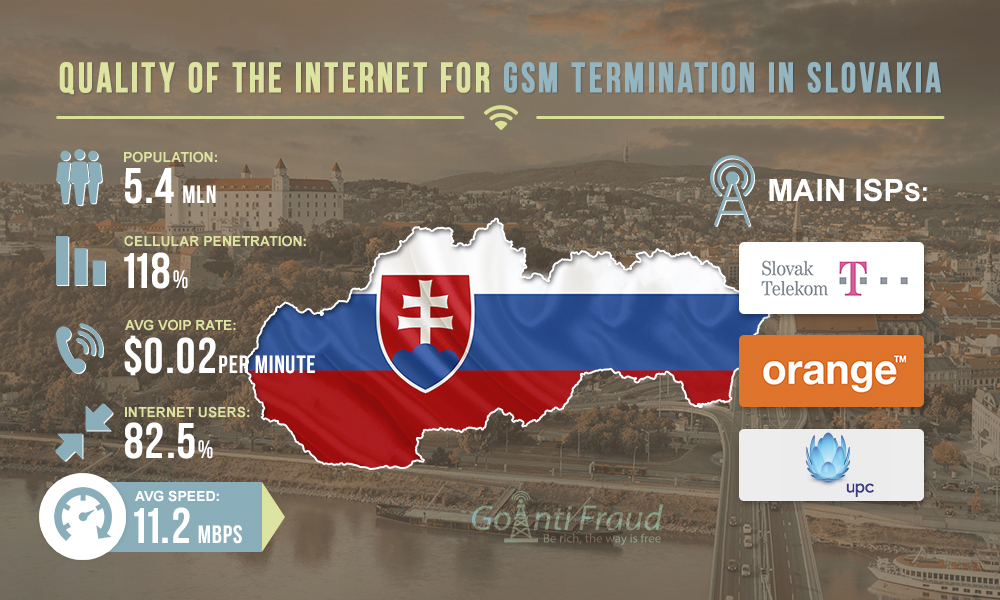 Almost every city and village in Slovakia has ADSL, ADSL2, VDSL, and FttX connections. Also, there is a wireless Internet provided by mobile operators, in particular. If you install GSM gateways and use the dinstar sim server for remote management in Slovakia, you can efficiently terminate calls.
In Slovakia, the average speed of the Internet is 11.2 megabits per second. The average maximum speed is 48 MB/s. This is sufficient for the normal operation of multi-channel VoIP equipment, with a single channel to provide a speed of 42 Kb/s). Some Internet providers provide access to fiber optic Internet at 300 MB/s. The service costs about $20 a month. There are also budget packages, with a monthly subscription of $ 15 per month at up to 75 Mbit/s).
In addition to a stable and high-speed Internet connection, to terminate traffic in Slovakia, you will need good protection against Antifraud systems. You can connect your equipment to GoAntiFraud and use proven tools to simulate human behavior. You will get access to the built-in SIM-server, SMS-server, and Road Map to simulate the movement around the city, as well as to the IMEI database to change IMEI.