The high level of cellular penetration in Romania (about 140%) opens up good opportunities for entrepreneurs investing in the telecommunications sector. Despite the low rate (as little as $0.01 per minute of conversation), it's quite possible to make money terminating GoIP traffic in this country. Romania has a good GSM coverage and excellent high-speed Internet. The only thing you have to do is select the optimal tariff plan.
The largest GSM operators in Romania are Orange and Vodafone. The subscriber base of Orange is 10.2 million people, while about 8.7 million people use Vodafone. Information on profitable Orange packages, you can find here.
If you are just starting your way in GSM termination - start it with GoAntiFraud! For beginners, we offer a complete NewBusiness solution that includes a set of necessary VoIP equipment and software for automation of business processes and proven tools to protect against AntiFraud systems. Over 2,000 customers in 31 countries have succeeded in the GSM termination using our service. You can become one of them!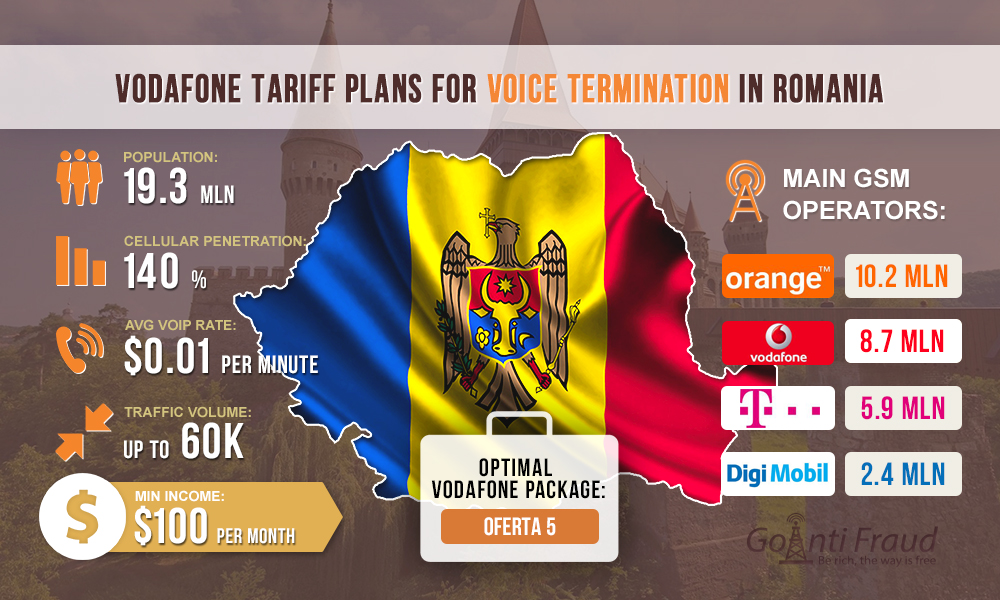 Vodafone offers both contract (Abonamente) and prepaid packages (Cartela). Prepaid offers that are suitable for termination are:
Oferta 5. No-limit within the network, 1,000 minutes within the country for $5.3.
Oferta 6. No-limit within the network, 1,500 minutes within the country for $6.4.
Oferta 7. No-limit within the network, 2,000 minutes within the country for $7.4.
Oferta 8, 10 and 12. No-limit within the network, 2,000 minutes (including roaming) for $8.5, $10.6, and $12.7. The packages differ in tariffs for international calls and the amount of mobile Internet traffic.
Oferta 5 is the optimal package to terminate calls. Using it, the minute of the local call will cost $0.001 if you work for 10 hours a day). Within a month, you can make about $100 from each VoIP equipment channel. By connecting, for example, the dinstar 16 port gsm gateway, you can significantly increase your revenue.
Complete NewBusiness solution from GoAntiFraud is your successful start into the GSM termination! We provide ready-business on a turnkey basis, which includes a set of GoIP equipment by EjoinTech or ChinaSkyline, convenient software to computerize the operation and efficient tools to protect the SIM-cards from the lock. We also provide qualified technical support at every stage of your business. Our business model is based on the successful experience of more than 2,000 customers in 31 countries!