To date, the mobile communication market in Uzbekistan is developing dynamically. With a population of 30.5 million, 80% of local residents use the services of GSM operators. The number of mobile communication users is more than 25 million people. This opens up excellent opportunities to make money terminating.
In Uzbekistan, there are four cellular companies, and UZMOBILE is the smallest of them. Nevertheless, the subscriber base of this operator is more than 0.5 million people. The cost of the UZMOBILE SIM-card is included in the $2 prepayment after you get connected. There are only 5 prepaid packages:
Step. The subscription fee is $1.5 per month, with 30 free minutes to make calls in the country.
Salom. For $0.15 a day, you will get 250 minutes for calls to Uzbekistan.
Salom +. The subscription fee is $8 a month, with 500 free minutes provided.
Uzmobile 1200. For $12 a month, you can use 1,200 minutes in the country.
Uzmobile 4000. For $20 a month, the operator provides 4,000 free minutes.
GoAntiFraud is compatible with the equipment produced by EjoinTech & China Skyline. You can connect your gateways and SIM-banks to the service, or buy equipment from us at a low price. For those who are just starting a GSM termination business, we offer ready NewBusiness packages, including complete sets of Ejoin Tech & China Skyline equipment.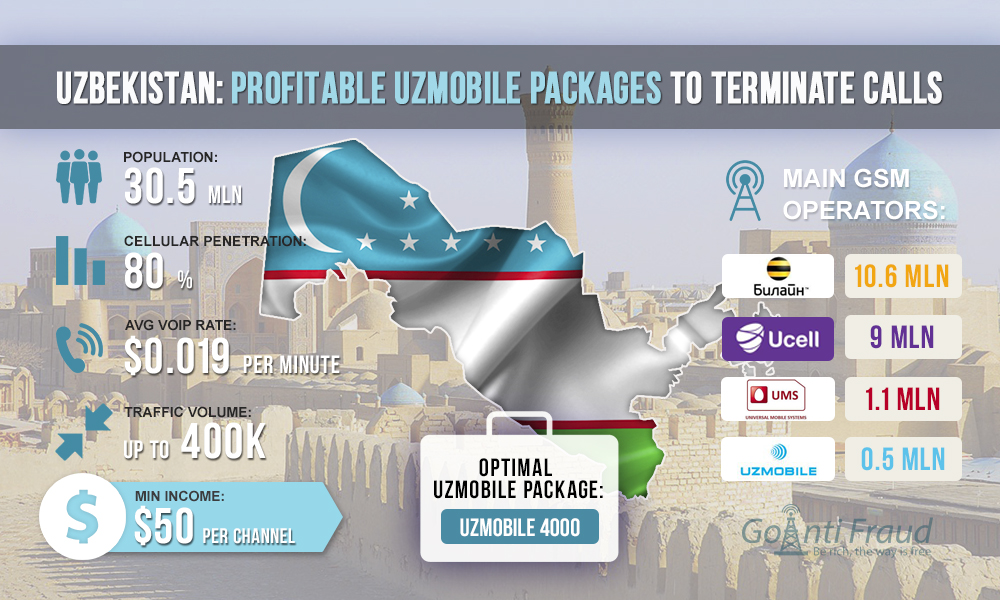 The most profitable package is Uzmobile 4000. When you are using it, the minute of conversation inside the country will cost as little as $0.005. Using it, you can earn about $180 a month via one channel, including the cost of new SIM-cards. However, if you are going to terminate for 800 minutes a day, cards can quickly be blocked, and you will not have time to use all bonus minutes. From this point of view, it is better to use the Salom package. Terminating 250 minutes a day, you can earn about $50 via one channel (including expenses on SIM-cards). You can make more money if you install a multi-channel portech gateway or an 8, 16, 32-port gateway.
Do you want to increase the profitability of your business using China Skyline gateways? GoAntiFraud provides a complete solution for competitive VoIP GSM termination, due to which your GSM gateways and SIM-banks will operate more efficiently. We directly cooperate with China Skyline and sell its equipment at the lowest prices.