African countries are the most popular to do a voice termination business in, and Angola is no exception. The population here is 26.4 million people, with 60% of local residents being active users of cellular communication services. For advantageous termination of GSM traffic, it is important to choose the right tariff plan for SIM-cards.
In Angola, there are 2 major GSM operators - Unitel and Movicel. You can read about Unitel tariff plans here. The Movicel operator is the second in the coverage of the mobile communications market in the country, and also one of the leaders in the market of GSM services in Africa. The company exists since 2003, and today its subscriber base has about 3 million users. This GSM operator also provides Internet access services under the Movinet brand.
A Movicel SIM-card costs $5.45, which you can buy in branded chain stores. The operator offers several prepaid packages:
Karga. The subscription is $4.24, and you get 100 bonus minutes for calls within the network.
Karga Nice +. For $ 10.9 the subscriber is provided with 300 free minutes for calls within the network.
Karga Tudo +. 600 bonus minutes for $19.99 per month.
Sem Limites Smart. When paying $ 30.2, the operator provides unlimited calls within the network, as well as 100 bonus minutes for calls to other operators' numbers.
Sem Limites Classic. No-limit within the network + 200 minutes to the numbers of other operators ($42.4 per month).
Sem Limites Plus. For $90.86 per month, the customer gets the opportunity to make an unlimited number of free calls to Movicel numbers, as well as 500 bonus minutes to other networks.
If you are just starting your way in GSM termination - start it with GoAntiFraud! For beginners, we offer a complete NewBusiness solution that includes a set of necessary VoIP equipment and software for automation of business processes and proven tools to protect against AntiFraud systems. Over 2,000 customers in 31 countries have succeeded in the GSM termination using our service. You can become one of them!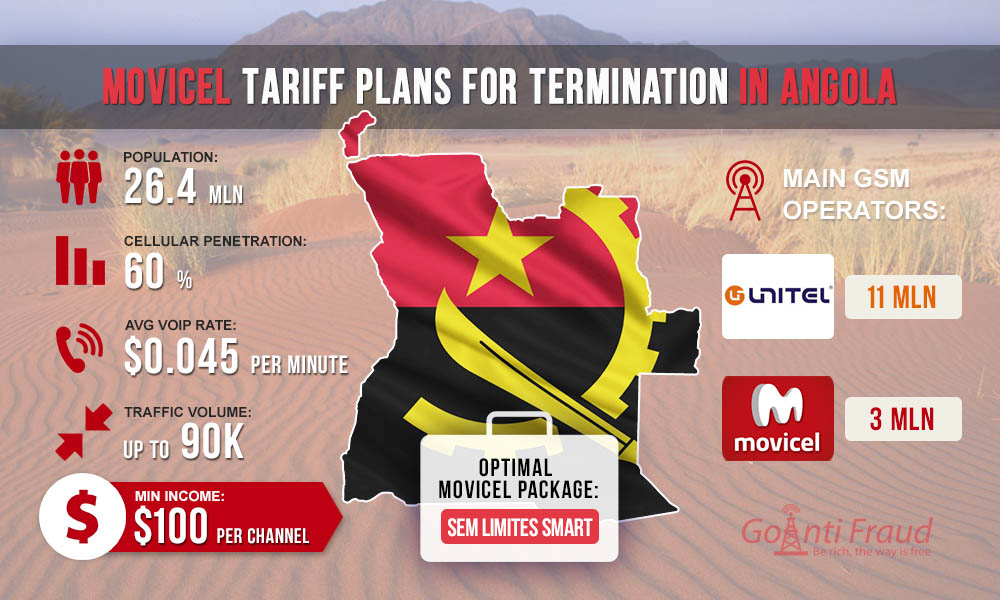 The optimal package for VoIP termination is Sem Limites Smart, when connected, the minute of the local call will cost as little as $ 0.01 if the dinstar voip gateway or another gateway continuously runs for 10 hours a day, with the SIM-cards replaced once a week). Using this package you can make about $400 via one channel under the above conditions to terminate calls. The profit depends on the amount of provided traffic and on how quickly your SIM cards will be blocked. We recommend providing reliable protection against anti-fraud systems of the operator.
Complete NewBusiness solution from GoAntiFraud is your successful start into the GSM termination! We provide ready-business on a turnkey basis, which includes a set of GoIP equipment by EjoinTech or ChinaSkyline, convenient software to computerize the operation and efficient tools to protect the SIM-cards from the lock. We also provide qualified technical support at every stage of your business. Our business model is based on the successful experience of more than 2,000 customers in 31 countries!