The voice termination is one of the most profitable businesses in the telecommunications industry. Entrepreneurs place GSM gateways in a particular country and earn on the difference in the cost of international and local calls, converting VoIP signal to GSM. Post-Soviet countries are considered one of the most promising for investing in traffic termination, with Belarus being one of the most attractive countries to terminate traffic.
Belarus, like in many other CIS countries, provides expensive international communication, and at the same time low rates for local cellular communication. With $0.15 per minute, the businessman gets an opportunity to make good money on terminating international voice traffic, whose amount reaches 150K.
The situation in the country is rather complicated in terms of state control over activities in the sphere of GSM termination. Despite this, many terminators install gateways here and terminate international traffic through SIM-cards of local operators. In Belarus, there are three largest mobile companies - MTS, Velcom, and Life.
Cloud service GoAntiFraud is developed for profitable VoIP GSM termination. Connect your GoIP equipment by EjoinTech & ChinaSkyline or Topex to our service, and you will provide it with 100% productivity. Our experts will help you to quickly set up the GSM gateways and basic logic of termination.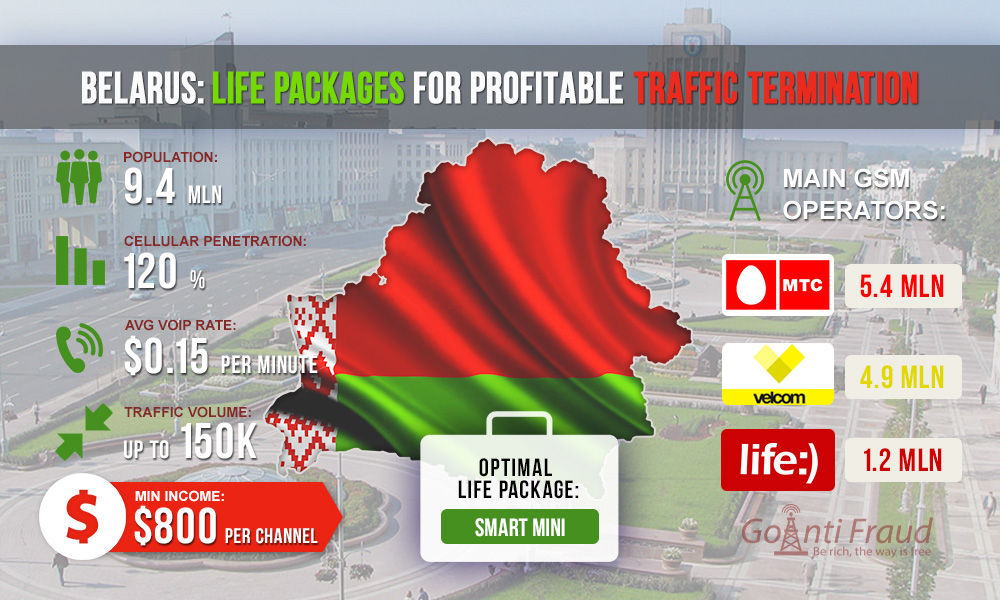 The subscriber base of Life is about 1.2 million users (with a population of 9.4 million people). The company offers 5 unlimited prepaid packages that can be used to make an unlimited number of free calls within the network:
Start Mini. The subscription fee is $5.83 per month.
Smart 1. The subscription fee is $7.95 per month.
Smart 2. The subscription fee is $10.6 per month.
Smart 3. The subscription fee is $13.25 per month.
Smart 4. The subscription fee is $15.9 per month.
The Smart Mini package is the most profitable, in terms of termination. When you connect it, one minute of a local call to Life numbers will cost as little as $0.003 (when the portech gsm gateway runs for 5 hours a day, with a SIM-card lasting 5 days). The cost of the SIM card is about $1.6. Thus, you will be able to earn approximately $800 via the equipment channel if you competently bypass AntiFraud systems.
We have developed GoAntiFraud service to improve the efficiency of GSM termination. Proven tools to bypass AntiFraud systems can significantly extend the lifespan of SIM-cards. With our service you can automate routine actions to work with SIM-cards and remotely control all equipment from a single personal account.