Azerbaijan attracts many terminators because it provides a high enough rate of $0.165 per minute. At the same time, the penetration rate of cellular communication reached more than 110%, with a population of 10 million people, which ensures a constant inflow of international GSM traffic to the country. But, to make good money doing call termination business, you need a stable and high-speed Internet connection.
In Azerbaijan, the market of Internet services began to expand rapidly in recent years. At the end of 2016, the penetration rate of the Internet exceeded 79%. In 2013, the first satellite of the country, Azerspace-1, was launched into orbit, the second satellite (Azerspace-2) is going to be launched in 2018.
In 2016, Azerbaijan entered the top five in terms of penetration of broadband Internet in Asia, along with countries such as South Korea and Japan (91%), Singapore (84%), Taiwan (83%), and Hong Kong (79%). To date, the number of Internet services providers has reached 50. In recent years, residents of the country began to actively use 4G. The coverage of 4G networks is 99% of the territory of Azerbaijan, which provides access to high-speed Internet throughout the country.
Connect to GoAntiFraud to obtain solid income in GSM termination. GoAntiFraud provides an opportunity for you to run a profitable business using efficient tools to simulate human behavior on the network. We can help you customize the logic of termination in accordance with the features of your country, in order to minimize risks of SIM-block.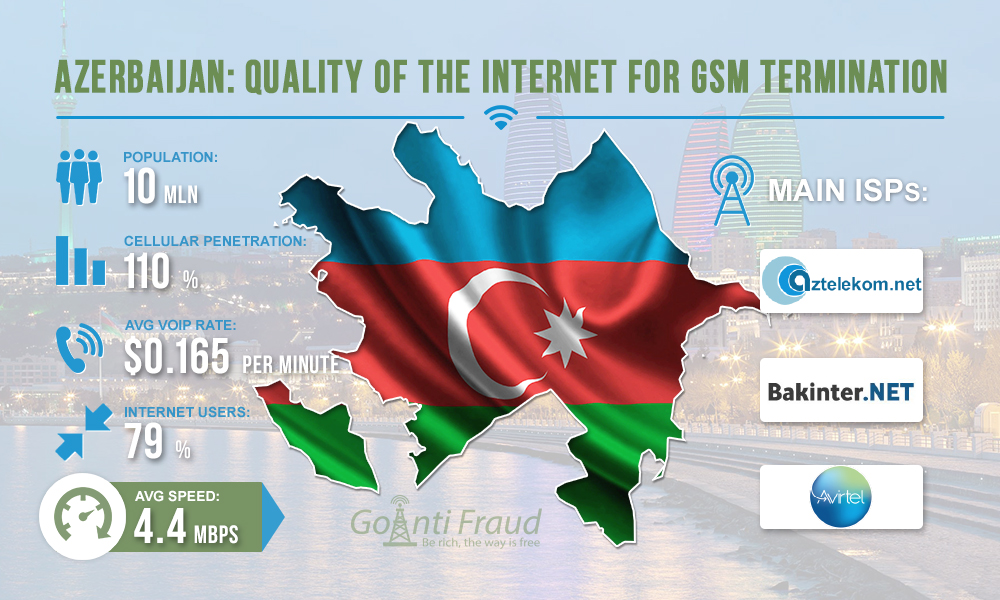 Average speed in the country is 4.4 megabits per second. This is enough to place a 16 port goip gateway or other multichannel gateways. You will need 42 kbps for each channel. The fastest Internet is in Baku and other major cities. The most common connection technologies are DSL, ADSL, LTE, and fiber optic Internet.
In big cities, many providers provide access to the Global Network with a data rate of 100 megabits per second. The cost of connection is about $18, plus $ 117 per month for services. There are more affordable offers: for 50 Mbit/s, the subscription fee is about $65 a month.
In Azerbaijan, the major Internet providers are:
Aztelecomnet
Bakinternet
IntraNS
ADANET
Avirtel and others.
Do you want to be the first to receive useful information about new GoAntiFraud features? Subscribe to our YouTube channel to stay tuned! We take care of our customers, so we regularly prepare useful video clips that will help you deal with the service and solve the terminator's current problems (e.g. SIM-card lock, reduction of business expenses, etc.). Sign up right now to be timely notified if there are new videos!