Sudan, like many countries in the African continent, attracts entrepreneurs investing in call termination. Sudan is largely populated, with about 42 million people living here and the penetration rate of cellular communication reaching 77%. The country provides good GSM coverage, covering almost the entire territory. With the rate varying from $0.06 to $0.1 per minute, in Sudan, the terminator can make over $250 via one channel of equipment.
The country has 2 major GSM operators, which are Zain and MTN. The Zain subscriber base consists of more than 12 million users, MTN over 8.8 million. The operators offer the possibility of connecting by prepayment. There are two more players in the cellular market - Sudani and Canar but they have far fewer connections. The companies-originators offer volumes from 20 to 50 thousand minutes for the final termination. It is more profitable to terminate GSM traffic provided by MTN as the transiters are ready to pay 10 cents per minute of conversation. Traffic provided by Zain is cheaper. It is about $0.06 per minute of conversation.
GoAntiFraud is designed for those who are engaged in GSM termination. You can connect your equipment to our service and increase profitability of your business in the first months of work! We also offer packages for beginners NewBusiness, which include sets of GoIP, EjoinTech & ChinaSkyline equipment, necessary for a successful start.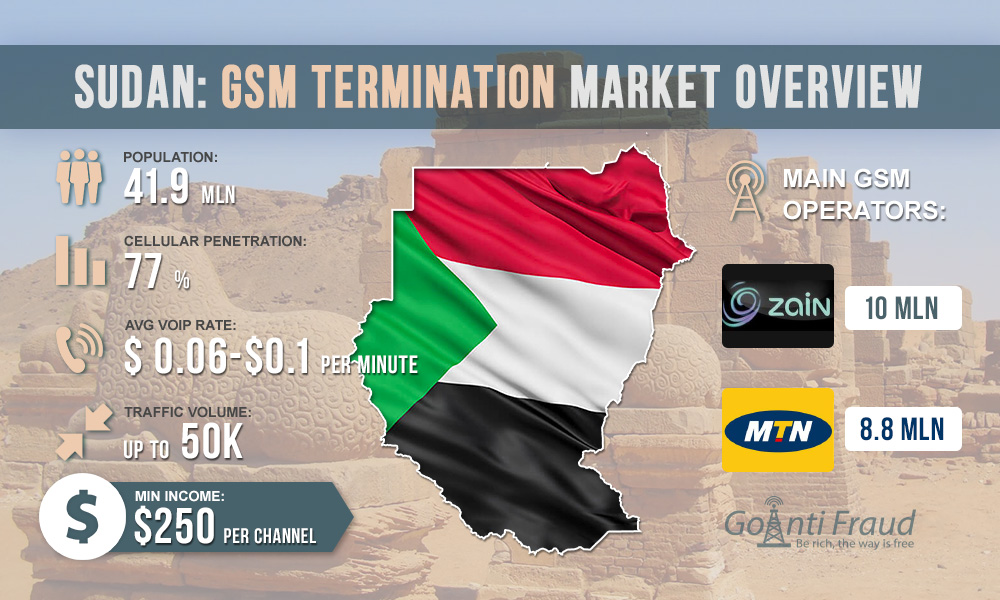 The cost of a SIM-card in Sudan is about 5 Sudanese pounds (it's about $0.75). They can be bought both in airports and in network stores of cellular operators. In Sudan, you must always register purchased SIM-cards. Therefore, to do the termination, it is better to buy numbers from dealers specializing in termination.
Local GSM operators offer quite profitable prepayment terms. You can connect the tariff plans, with which the minute of the local call costs $0.001. Taking into account the average 3-day lifespan of the SIM card, if you have goip gateway gsm running for 5 hours a day, your earnings will be over $250 per channel. If you install multi-channel equipment, you can increase this amount up to $8,000- $10,000.
Do you want to be the first to receive useful information about new GoAntiFraud features? Subscribe to our YouTube channel to stay tuned! We take care of our customers, so we regularly prepare useful video clips that will help you deal with the service and solve the terminator's current problems (e.g. SIM-card lock, reduction of business expenses, etc.). Sign up right now to be timely notified if there are new videos!