With a population of 42 million people, mobile penetration in Sudan is 77%. This is a good indicator, which indicates a large volume of voice traffic in the country. By investing in a business in the sphere of call termination services, you will be able to get a good profit on the difference in the cost of international and local calls...
In Sudan, there are two major mobile phone operators - Zain and MTN. Zain's subscriber base numbers more than 10 million people. This provides an opportunity for the terminator to have the maximum number of calls paid off. To terminate traffic provided by Zain, originators are willing to pay $0.06 per minute.
Boost your business profits in the GSM termination by ordering the GoAntiFraud Corporate Solution from! Choose the best package - Start Up, DeLuxe or Ultimate, and get the best opportunity to evaluate all the possibilities of the service! You can also buy GoIP equipment by EjoinTech & ChinaSkyline at low prices.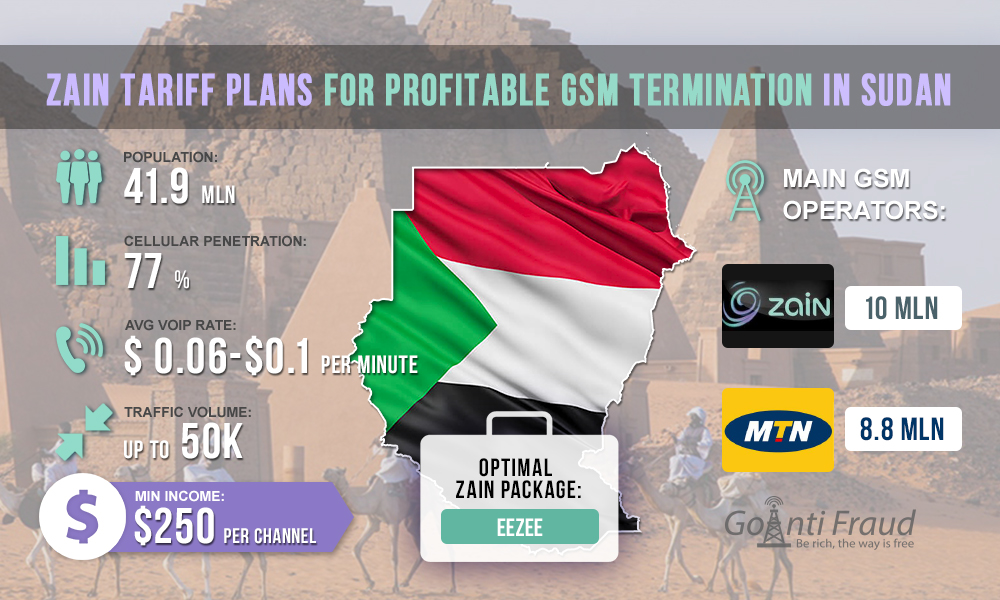 The cost of a SIM-card in Sudan is about 75 cents. Zain offers several prepaid packages:
Mobipaid Monthly. The cost of connection is $3. One minute of conversation on the network will cost $0.009. The validity period is 1 month.
Modi paid Quarterly. The cost of connection is $6. The rate for on-net calls is $0.009 per minute. The validity period is 3 months.
Mobipaid Early. The cost of connection is $15, one minute of the on-net call is $0.009. The validity period is 1 year.
Eezee. The cost of connection is $0.75. One minute of the on-net call is $ 0.02. When you top up the account by $0.75 or $1.5, the money amount is doubled.
The optimal package for voice termination is Eezee. Due to bonuses, a minute of a local call will cost $0.01. Taking into account the cost of SIM cards, if you have the GSM gateway operating smoothly for 5 hours a day, you will make $250 via one channel. Using multi-channel equipment like dinstar 32 port, you will significantly increase your profit terminating calls.
Do you want to be the first to receive useful information about new GoAntiFraud features? Subscribe to our YouTube channel to stay tuned! We take care of our customers, so we regularly prepare useful video clips that will help you deal with the service and solve the terminator's current problems (e.g. SIM-card lock, reduction of business expenses, etc.). Sign up right now to be timely notified if there are new videos!