Libya has one of the highest rates of mobile penetration among African countries. It reached 155% at the beginning of the year. Due to the high competition in the market, today, in Libya, there are the lowest rates for local calls on the continent. Although the rate in Libya is not too high (from 4 to 8 cents per minute), you can successfully make money doing call termination.
Despite the fact that for a long time the telecommunication system was destroyed due to the Civil War, today the mobile market is developing well in Libya. The situation with the development of the Internet services sector is not bad as well: the government made big investments in the fiber-optic backbone of the new generation. The access to DSL and WiMax connections has significantly increased. In addition, new fiber-optic connections of international scale were made available: in 2010, the first cable was laid, in 2013 - the second one. Libya is one of the first countries in the African continent, where it became possible to connect using FttP technology.
GoAntiFraud Corporate Solution is an advantageous offer for GSM termination professionals! Complex solution for corporate customers will improve the profitability of your business many-fold! You will have professional advice from technical experts GoAntiFraud, tools for efficient protection against the SIM-block, SBO traffic optimization and other capabilities of the service at your disposal.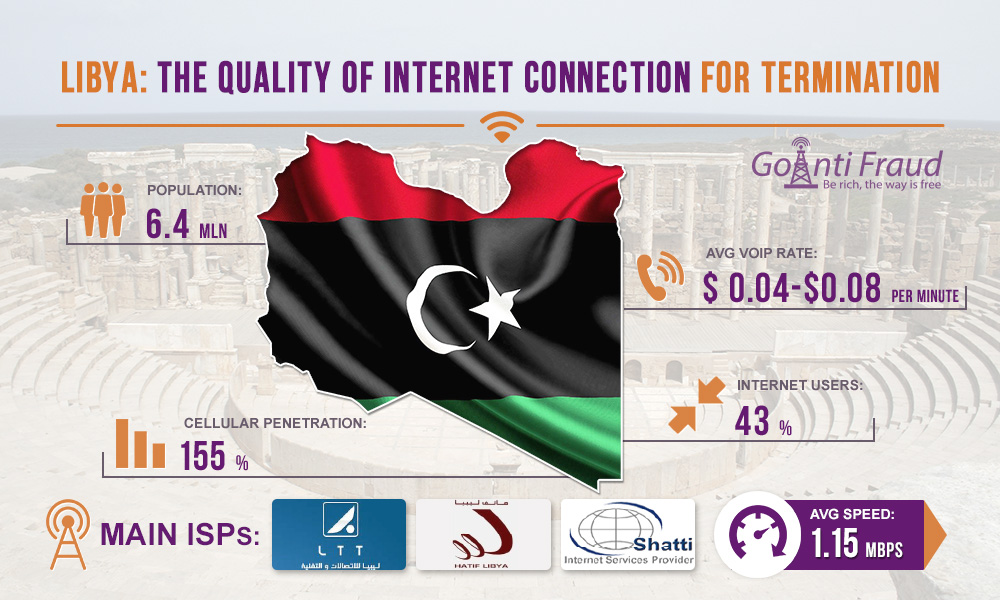 To date, more than 2.8 million local residents have access to the Internet in Libya, that is, the penetration rate of the Internet has reached 43.7%. Average speed in the country is low: 1.15 megabits per second. However, in large cities, such as Tripoli, Misurata, Ez-Zavia, and Benghazi, the data transfer rate can reach 6 Mb/s, which is quite enough for the normal operation of the dinstar 32 port gsm or other multi-channel equipment. Since, to successfully simulate the behavior of a real subscriber, gateways need to be located in different parts of the city or even different cities, this speed is enough for efficient termination.
In total, 23 Internet providers operate in Libya. The major ones are:
LTT (Libya Telecom & Technology);
Hatif Libya;
Shatti Net.
An Internet access package with a speed of 2 Mbit/s costs about $22 a month.
Do you want to be the first to receive useful information about new GoAntiFraud features? Subscribe to our YouTube channel to stay tuned! We take care of our customers, so we regularly prepare useful video clips that will help you deal with the service and solve the terminator's current problems (e.g. SIM-card lock, reduction of business expenses, etc.). Sign up right now to be timely notified if there are new videos!