Termination of VoIP traffic in Libya can be a promising start-up in the telecommunications sector. With a population of 6.4 million people, the penetration rate of cellular communication is more than 155% here. The originators are ready to pay the terminator up to $0.08 for every minute of the terminated traffic. To make good money, you need to choose the optimal tariff plan.
In Libya, there are 2 major GSM operators - Lybyana and Almadar. Almadar's subscriber base consists of over 3 million people, and this is about half of the local population. Therefore, SIM-cards of this operator are quite suitable for profitable voice termination. The cost of one SIM card in the country is about $3.5. If you protect the cards from blocking by AntiFraud systems, it will last three days, on average.
Are you going to start a VoIP GSM termination business? We bring to your attention GoAntiFraud video materials which contains information about VoIP technologies and the capabilities the service has to offer. Step-by-step video instructions will help you understand what GSM traffic termination is and how to start a profitable business in this area. Do not forget to subscribe to our YouTube channel so that you can always use helpful video materials at any time!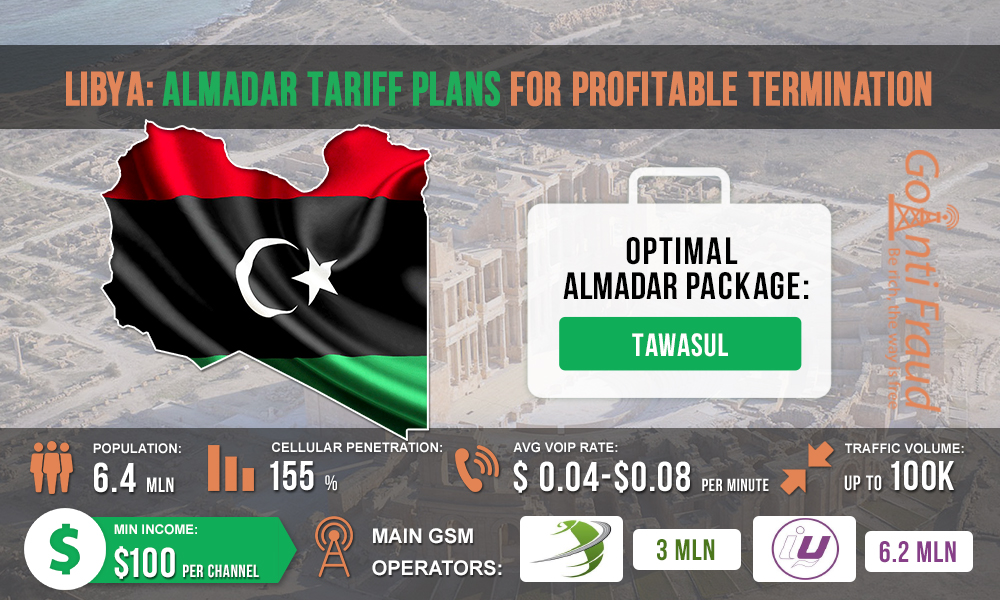 Almadar offers its customers one prepaid package – Tawasul that allows making on-net calls at $0.06 a minute. With the rate varying from $ 0.05 to $ 0.08, this tariff is not very profitable. But Almadar has a special offer - Friday Offer, which is available on Fridays only. For $ 2.15 you get an opportunity to make free on-net calls during the day. If you terminate 300 minutes a day, then the minute of conversation will cost as little as $0.007.
Using the prepaid Tawasu package from Almadarl, by connecting Friday Offer, you will be able to make about 100-150 dollars (only from one equipment channel). By placing a dinstar dag 1000 or other gateways that have numerous ports, you can significantly increase your earnings. To get a stable high profit, use GoAntiFraud tools that will efficiently mask SIM-cards from antifraud systems.
Do you want to be the first to receive useful information about new GoAntiFraud features? Subscribe to our YouTube channel to stay tuned! We take care of our customers, so we regularly prepare useful video clips that will help you deal with the service and solve the terminator's current problems (e.g. SIM-card lock, reduction of business expenses, etc.). Sign up right now to be timely notified if there are new videos!