Doing the voice termination business in Nepal can bring a stable profit. To date, the level of mobile penetration in this country is 106%, with a population of 29.1 million people. The average rate for the country is $0.05- $0.06 but huge amounts of international traffic are flowing to Nepal, mainly due to developed tourism. For successful earnings, the only thing you need to do is choose a profitable tariff plan.
Ncell is the largest GSM operator in Nepal as its subscriber base consists of about 13.9 million users. The cost of the SIM-card is 99 Nepalese rupees, which is about 1 dollar. It can be purchased at the Ncell cellular communication salon, by presenting a document proving the identity. If you are going to do termination, it is better to purchase cards from street vendors whom you do not need to produce your passport. The account of the purchased SIM-card will immediately be replenished with a $0.48 bonus. As a bonus, the subscriber also receives 40 free minutes, 20 megabytes of mobile Internet and 60 SMS. Using SMS, you can make extra money, terminating SMS-traffic.
GoAntiFraud offers a comprehensive solution for best GSM termination using GoIP equipment. We cooperate directly with Hybertone manufacturer, so you can buy GSM gateways and SIM GoIP banks at the lowest price. For those who begin doing VoIP termination, we offer NewBusiness solution that includes the required set of equipment, software for automation and tools to protect against the SIM-block.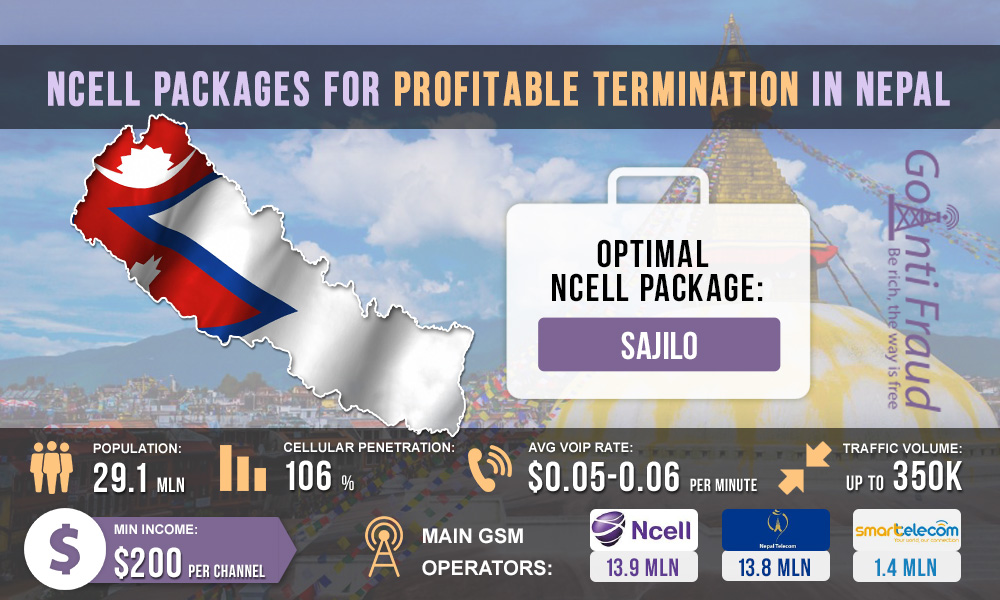 By default, prepaid Ncell SIM-cards are provided with the Sajilo tariff plan. On-net calls will cost $0.02 per minute. There is another tariff plan for prepaid customers - Ramro, the cost of a minute of a call from Ncell to Ncell is the same 2 cents. There is a difference in tariffs for international calls, SMS-messages, and mobile Internet but it does not matter from the point of view of GSM traffic termination.
For profitable termination via 2n gsm equipment, we recommend using the Sajilo tariff plan. If you buy new SIM-cards every day, you will be able to minimize the risks of blocking by anti-fraud systems. Using bonus minutes provided by Sajilo, you can make about $200 via each channel.
Do you want to be the first to receive useful information about new GoAntiFraud features? Subscribe to our YouTube channel to stay tuned! We take care of our customers, so we regularly prepare useful video clips that will help you deal with the service and solve the terminator's current problems (e.g. SIM-card lock, reduction of business expenses, etc.). Sign up right now to be timely notified if there are new videos!