Nepal Telecom is the second largest GSM operator in Nepal. Its subscriber base totals more than 13.8 million people. Nepal Telecom SIM-cards are widely used to make money terminating. In order to have the high and stable income, it is important to choose the right tariff plan.
Nepal Telecom is a state-owned operator. It is a monopolist in the sphere of broadband Internet access but competes with Ncell for mobile users. The two cellular companies differ quite a bit in the number of subscribers, which is 13.9 million and 13.8 million respectively.
Nepal Telecom offers only one prepaid package. It's called GSM SIM Pre-Paid. Using this tariff plan, a minute of an on-net call will cost $0.015. The SIM-card of the operator is called "Namaste" (translated as "Welcome"). It costs as little as 87 cents, while you immediately get 48 cents. The top-up cards are available in denominations of 50, 100, 200, 500, and 1000 rupees ($0.5, $1, $2, $5, $10).
Are you going to start a VoIP GSM termination business? We bring to your attention GoAntiFraud video materials which contains information about VoIP technologies and the capabilities the service has to offer. Step-by-step video instructions will help you understand what GSM traffic termination is and how to start a profitable business in this area. Do not forget to subscribe to our YouTube channel so that you can always use helpful video materials at any time!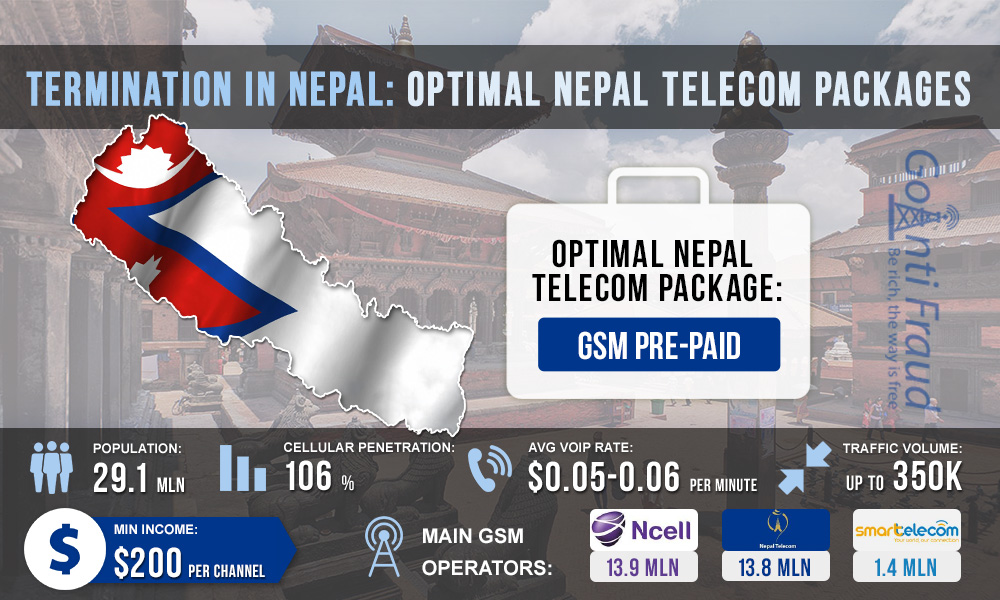 The operator also offers an additional service called Family & Friends. Connecting to it, you can call 5 selected numbers for $0.006 per minute. Such a tariff plan does not fit to do the termination.
Using the GSM SIM Pre-Paid package from Nepal Telecom, you can make over $200 via one channel, if you terminate 300 minutes a day. The calculations were made taking into account the cost of SIM-cards, with an average 3-day lifespan of the subscriber number.
If you are just starting your way in GSM termination - start it with GoAntiFraud! For beginners, we offer a complete NewBusiness solution that includes a set of necessary VoIP equipment and software for automation of business processes and proven tools to protect against AntiFraud systems. Over 2,000 customers in 31 countries have succeeded in the GSM termination using our service. You can become one of them!