The African country Benin attracts terminators with a high enough rate, which is 10 cents per minute of the call. In Benin, the market of Internet services is poorly developed, and very few people use fixed communication. But mobile networks in Benin account for a large volume of voice traffic. This opens up ample opportunities to make money doing the VoIP termination. On average, original companies offer 30-75 thousand minutes for the termination in Benin.
The population of the country is more than 11.4 million people. At the same time, cellular penetration reached 90% by the end of 2016. The development of the mobile sector was facilitated by competition between local GSM operators:
MTN;
Moov;
Glo;
Libercom;
Bell Benin.
We bring to your attention a selection of videos about GSM termination, which will be useful for beginners and professionals! On our YouTube channel, we have collected up-to-date information on the telecommunications business, expert advice, step-by-step video instructions for working with GoAntiFraud and other useful materials. All this will help you increase the efficiency of termination and make more money! Do not forget to subscribe to our YouTube channel to regularly receive brand new videos about VoIP termination.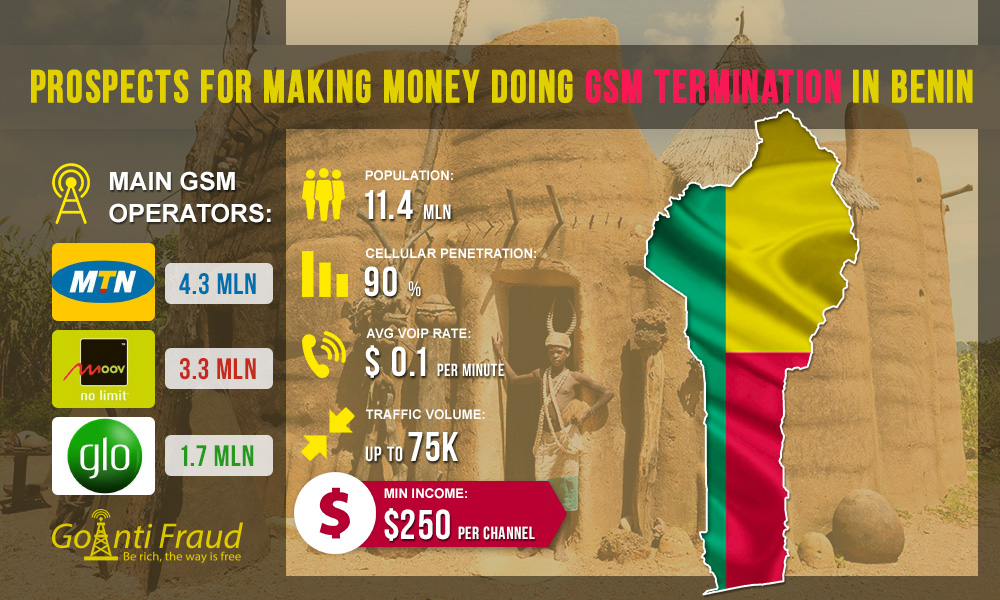 The largest mobile operator in Benin is MTN as its subscriber base consists of over 4.3 million people. The second place on the market is occupied by Moov Etisalat, which is used by about 3.3 million people. The third largest number of subscribers belongs to Glo Mobile (1.7 million users).
The cost of a SIM-card in Benin is about 50 cents. The average cost of a minute of a local call is $0.5. At the same time, the rate in this direction is $0.1 per minute. If you install gateways in the country and terminate 5 hours a day, you can earn at least $250 via each equipment channel.
Expand capabilities of GoIP equipment by connecting it to GoAntiFraud! We provide proven tools to increase the efficiency of GSM termination. Our service will help extend the lifespan of SIM-cards, computerize workflows, and remotely manage GoIP equipment from anywhere in the world.