Smart Telecom is the third largest operator of the Nepal GSM market. The subscriber base consists of more than 1.3 million people. The operator is actively working on the market under the Smart Cell brand and this year it is going to launch 4G networks. To use its SIM-cards for voice termination, it is important to choose a favorable tariff plan for outgoing calls.
GSM operator sells start packages "Sath Sath Smart Cell Pack", which include 2 SIM-cards. The package costs about $1, while the subscriber immediately gets $0.25 on the account. Standard tariffs for local calls for prepaid customers are $0.015 to make on-net calls and $0.019 to call the numbers of other operators.
We have developed GoAntiFraud service to improve the efficiency of GSM termination. Proven tools to bypass AntiFraud systems can significantly extend the lifespan of SIM-cards. With our service you can automate routine actions to work with SIM-cards and remotely control all equipment from a single personal account.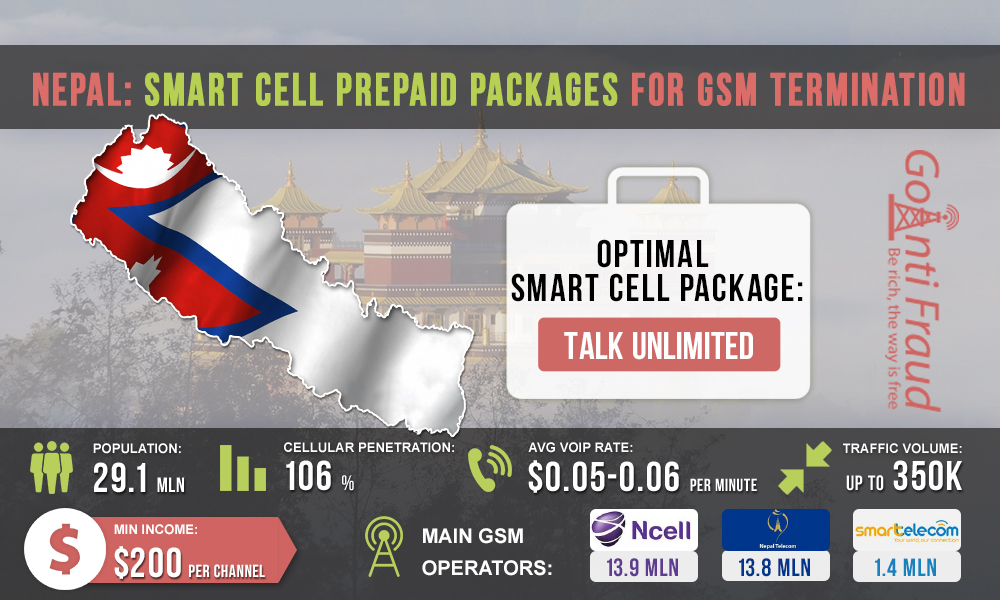 At the same time, Smart Cell has a special offer for prepaid subscribers - the tariff plan TALK UNLIMITED. By topping up for 1 dollar, the subscriber can make unlimited calls within 15 days. Of course, when terminating traffic, the SIM-card will be blocked much faster. Providing good protection against anti-fraud systems, one can expect that one number will be active for 3 days on average. When VoIP equipment works for 5 hours a day, a minute via an unlimited package will cost $.001.
As you can see, the prices for local calls in Nepal via Smart Cell are quite favorable, in comparison with the offers of other operators. Even with standard tariffs, you can make good money doing VoIP termination. And using the TALK UNLIMITED offer from Smart Cell, you can earn about $250 from one GSM gateway channel.
GoAntiFraud offers great opportunities for GoIP equipment users by EjoinTech & ChinaSkyline, Topex who do GSM termination. We provide efficient tools for the protection of SIM-cards from AntiFraud systems so your business will make more profits. You can buy a standard GoAntiFraud license or take advantage of our offers NewBusiness for beginners and Corporate Solution for GSM termination professionals.