Kolbi is the largest mobile operator in Costa Rica as its services are used by more than 4.4 million people. The telecommunications company I.C.E., owned by the state, operates under this brand in the cellular services market. It provides the best GSM coverage in the country, in comparison with other operators. The signal is transmitted well even in rural areas. In order to make money on termination, the entrepreneur needs to select a profitable prepaid package.
You can buy a Kolbi SIM-card for $1.7, it's called "Super Chip". At the first refill for the same amount, the subscriber immediately gets a $5.3 bonus. There is also a starting package "Chip Portalabitad". It costs $0.89, and you immediately get a welcome bonus of $ 8.8. All prepaid SIM cards Kolbi Prepago by default, with a minute of a local call costing $0.07.
Do you want to be the first to receive useful information about new GoAntiFraud features? Subscribe to our YouTube channel to stay tuned! We take care of our customers, so we regularly prepare useful video clips that will help you deal with the service and solve the terminator's current problems (e.g. SIM-card lock, reduction of business expenses, etc.). Sign up right now to be timely notified if there are new videos!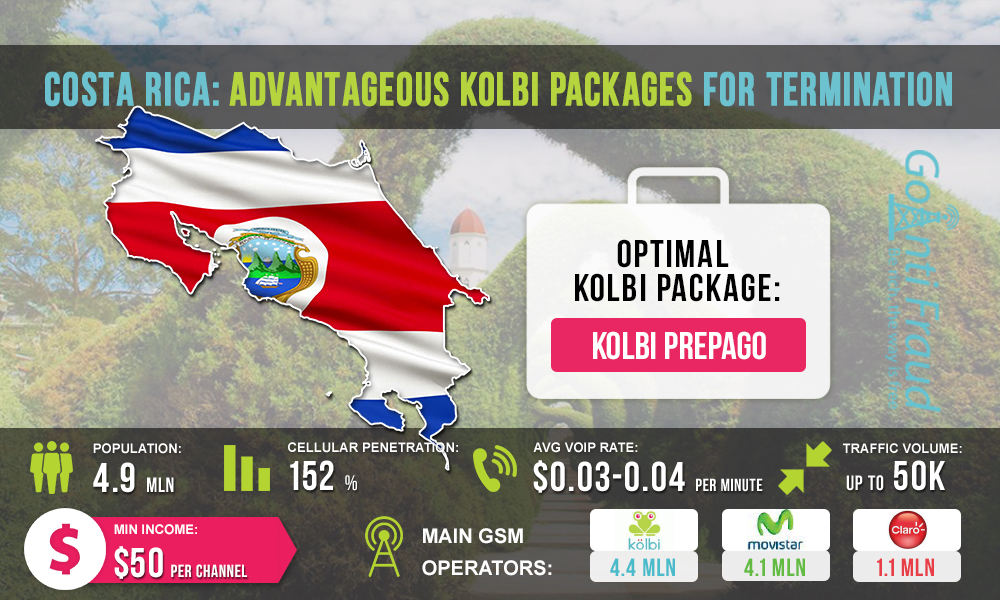 In addition, there are 2 tariff plans offered. They are Plans Fusion K and Tienda Kolbi Prepago. Plans Fusion K can be used for a month and is quite expensive. It is not suitable for terminating voip minutes. Tienda Kolbi Prepago includes several advantageous tariff plans, which provide bonuses that are valid from 1 day to a week. Among them there are:
Basico. 50 bonus minutes for $0.18.
Dia Plus. 100 bonus minutes for $0.35.
Dia Extremo. 200 bonus minutes for $0.71.
500. 500 bonus minutes for $1.77.
1000. 1,000 bonus minutes for $3.37.
2000. 2,000 bonus minutes for $3.55.
If you have bought Chip Portalabitad, you can use the welcome bonus, making the termination minute cost $0.007a. However, it is more profitable to buy this SIM-card and connect Tienda Kolbi Prepago 500. Then the minute of the local call will cost you $0.003, plus the cost of a SIM-card 90 cents a day. Accordingly, using this package it will be possible to earn from 240 to 340 dollars from 1 channel of VoIP equipment.
Expand capabilities of GoIP equipment by connecting it to GoAntiFraud! We provide proven tools to increase the efficiency of GSM termination. Our service will help extend the lifespan of SIM-cards, computerize workflows, and remotely manage GoIP equipment from anywhere in the world.