Voice traffic termination in Latin America can bring a handsome profit, if you choose the right route and smartly bypass Antifraud. With an average call rate over 0.09$, the terminator can earn 100-400$ per each gateway channel. However, you need a quality Internet connection for the smooth VoIP equipment operation.
Internet penetration in Ecuador is 81%. About 13.4 million of local residents have access to the Global Network. Although there are many Internet providers in Ecuador, the state company CNT still dominates at the market. It provides the Internet connection services using DSL / ADSL, Dial-Up and LTE technologies. 4G networks cover only few areas of the country territory. Besides CNT, access to LTE is provided by Movistar and Claro. Today CNT is expanding the coverage of the fiber network.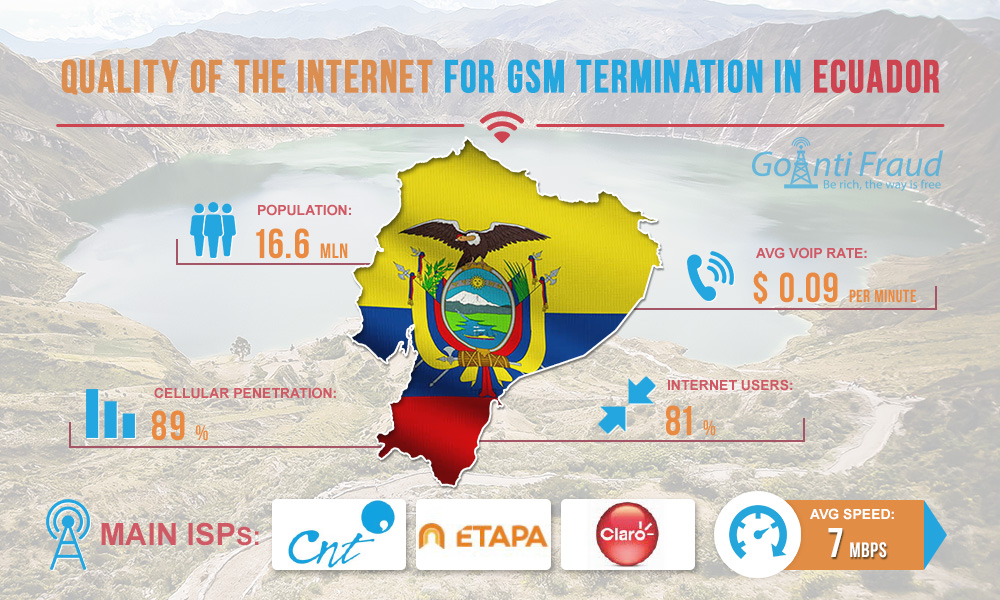 Broadband Internet is available mainly in urban areas, while satellite connections predominate in rural areas of Ecuador. On an average, 33-66% of users have access to broadband Internet at a speed of 2-3 megabits per second. This is enough for stable operation of voip call system, consisting of VoIP equipment with 1, 8, 16 channels (for one location). The average rate of download speed in the country is 7 Mbit/s.
The Government of Ecuador is implementing a national plan to expand broadband networks and provide Internet access for all local residents. It is predicted that the market of ADSL services and cable connections will continue to grow at 25% per year. In the coming years, the market of mobile broadband networks is expected to grow significantly.