The African country of Mali is attractive in terms of investment in the VoIP termination business. With a high rate ($0.17- $0.2), Mali has the well-developed mobile sector. The quality of the Internet connection is not too good as the average speed varies from 512 Kbps to 5 Mbps. However, you can place a VoIP call termination gateway in the capital - Bamako, where the fastest Internet is available. But how big will business costs be for connecting the Internet?
In Mali, there are quite a lot of Internet providers that provide broadband access services (DSL\ADSL, wireless). The most popular of them are Sotelma and Orange Mali.
Sotelma offers wireless connection, mobile Internet, and ADSL services. The latter option is the most optimal because it provides a high enough speed up to 16 Mbps at the optimal cost. Tariffs for Internet services are as follows:
512 Kbps costs $7 per month;
1 Mbps costs $36 per month;
2 Mbps costs $63 per month;
4 Mbps costs $161 per month;
8 Mbps costs $287 per month;
6 Mbps costs $500 per month.
The optimal package of the above is 1 Mbps for $36 a month.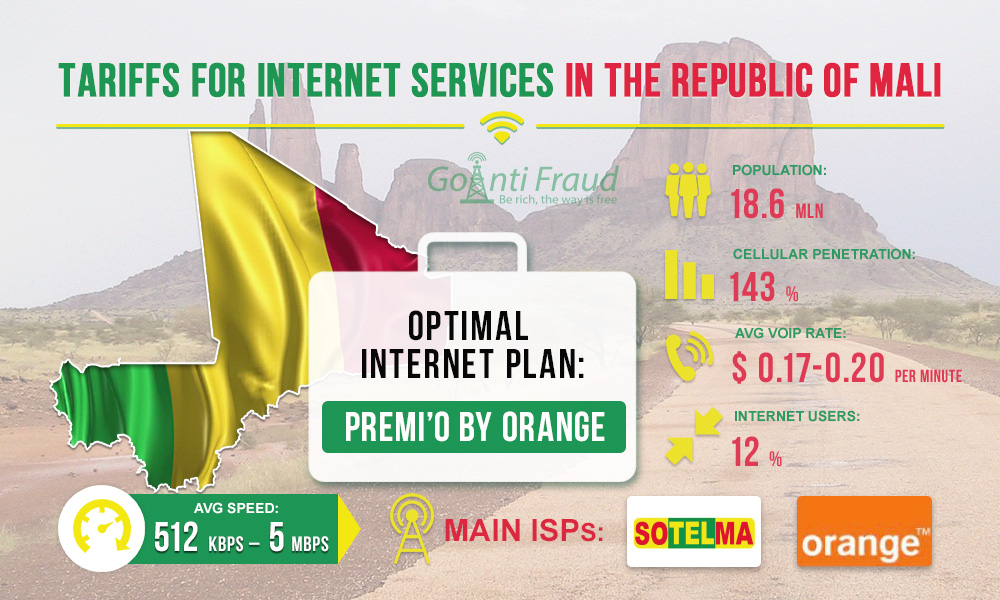 In turn, Orange Mali offers more affordable rates on broadband Internet access services. In total, the provider offers 2 packages:
Both Internet plans provide for a $22 monthly subscription fee. They differ from each other with additional features that include a welcome package of voice minutes for mobile calls, fixed telephone services, as well as the speed of the Internet. Confort'O provides a 512 kbps download speed, while Premi'O provides up to 2 Mbps.
The most profitable Internet plan for terminating calls in Mali is Premi'O from Orange. The speed of 2 Mbps will be sufficient for the smooth operation gateways equipped with a few channels. The main thing is that you should make sure that the Internet provider, which is also a mobile operator, cannot see your VoIP traffic. GoAntiFraud offers its clients a traffic optimization module that masks calls from the provider.