In Nicaragua, you can make more than $300 from one channel doing VoIP voice termination from if you choose the right tariff plan. For high earnings, it is important to use profitable start packages and connect bonuses. It is equally important to choose a large operator for terminating international traffic.
Movistar is a cellular company that is the second large in Nicaragua market in terms of a number of connections (more than 3.2 million) after the giant Claro. It provides large amounts of international traffic, therefore, when choosing this operator, you get the opportunity to have as many calls as possible paid off and make money on it. Prepaid SIM-cards are sold in branded Movistar stores, as well as in kiosks and supermarkets. To purchase a start package, you do not need to produce your passport, registration certificate or other documents. The cost of a SIM card in Nicaragua is about 40 cents. There are three prepaid tariff plans: Prepago Full (free connection), Prepago Libre (free connection), and Tribu Movistar ($ 1.6 per month).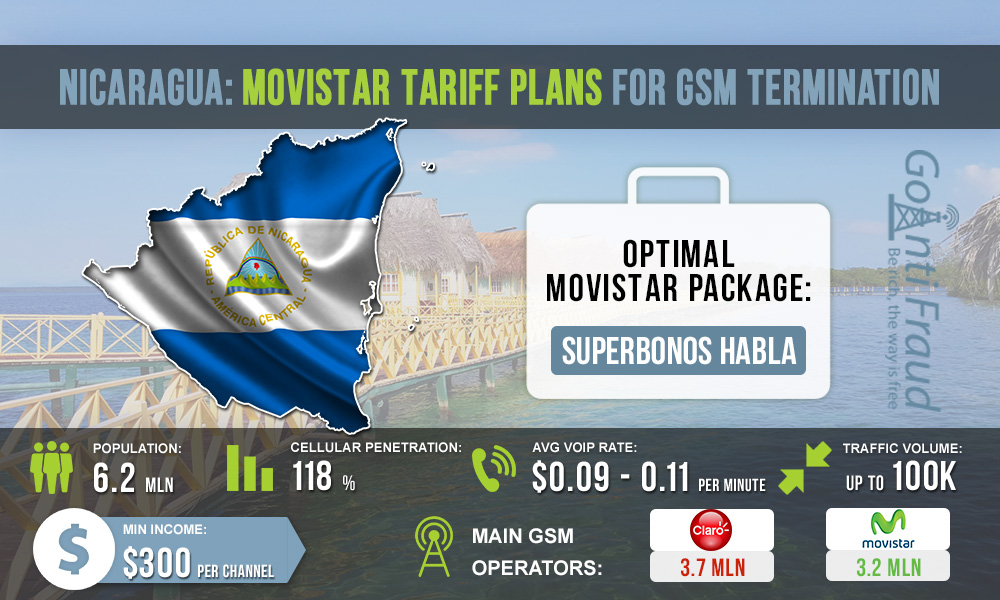 Movistar provides good coverage throughout the country, although it is somewhat inferior to the GSM coverage provided by Claro in rural areas only. But it offers lower prices for services, which is relevant for terminators who profit on the difference in the cost of international and local calls. Movistar has many offers for prepaid customers. The most profitable of them are Superbonos Habla packages, which can be connected to standard tariff plans. They provide bonus minutes for on-net calls. There are several options for the bonus package:
30 bonus minutes that cost $1.
60 bonus minutes that cost $2.
200 bonus minutes for the weekend. The cost of connection is $1.6.
The best option is to connect 60-minute Superbonos to the classic Prepago Libre prepaid plan. Then the minute of the call will cost as little as $0.03. On weekends, you can connect bonuses for the weekend. The cost of the on-net call is $0.008 per minute. Terminating 3 hours a day, you can make about 400 dollars from 1 channel of a gsm gateway device.