In the Latin American country of Nicaragua, there is a well-developed mobile communications sector, with VoIP voice call rates being quite high here. This opens up good opportunities for starting a GSM termination business. But how is the situation with the Internet connection? For normal operation of VoIP equipment, it is important to ensure a stable connection at 42 Kbps for each gateway channel.
The telecommunication market reflects the unstable economic condition in Nicaragua. There is a relatively low penetration of cellular and fixed communication, in comparison with other countries of Central America. Broadband Internet market is at the level of origin, with penetration being 19.4% (about 1.1 million users). The majority of Internet users in Nicaragua are concentrated in large cities as rural areas do not have access to a basic telecommunications structure.
In recent years, Nicaragua has received foreign investment to improve the country's economy. The World Bank is financing a project aimed at addressing the problem of poor telecommunications infrastructure. It will enable connectivity through the national fiber optic network and will improve the quality of broadband in the eastern regions of Nicaragua. It is planned to provide communication via underwater fiber optic cables in the Caribbean Sea.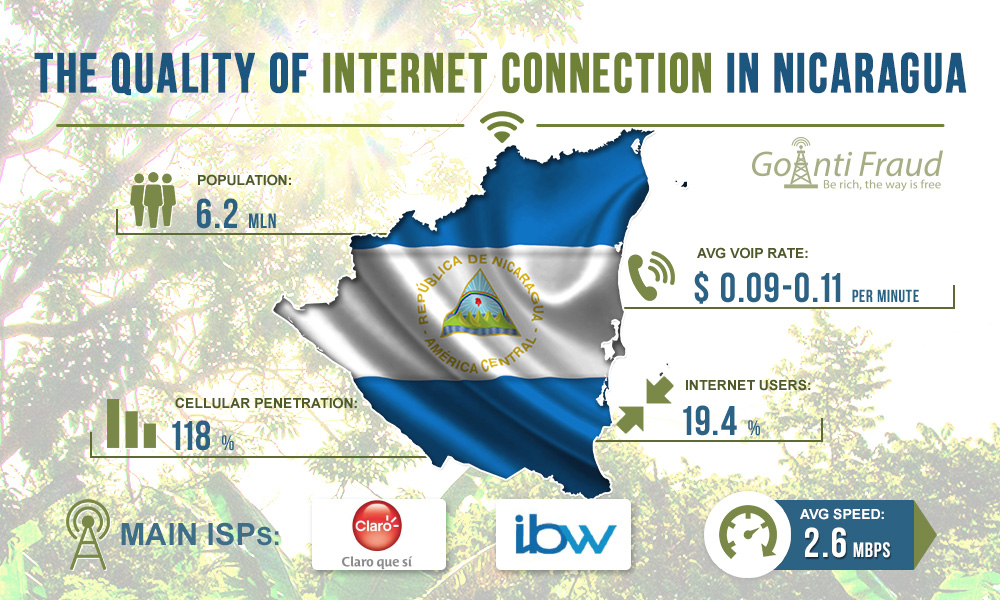 The Internet on the Pacific coast is more affordable in terms of price and an opportunity to get connected, even in small towns. The Caribbean coast is characterized by slower Internet and more expensive services. In addition, it is more difficult to connect to the Global Network here. It is also worth noting that in small towns, there are frequent power outages. As for the connection technologies, basically it's DSL/ADSL, there are also wireless connections.
LTE networks cover not only large cities but also rural areas. Services for access to mobile Internet are constantly improving but in small towns, the speed of 4G is rather slow. Prepaid Internet packages and SIM-cards are cheap.
Claro is the leader in the telecommunications sector of the country, including in the broadband sector. The provider offers a fixed cable connection at 512 Kbps to 5 Mbps. The Internet provider IBW is also popular. It provides 4G services, with a speed of 1-10 Mbps. The company also offers fixed cable Internet and mobile broadband access (speed - up to 4 Mbit / s). This speed is quite enough for the smooth operation of GoIP 4 or other equipment that has a few channels.