The Republic of Niger, as an African country, attracts many terminators. By placing a VoIP gateway here, you can make $500 via one channel. But first, you need to purchase SIM-cards offered by a large GSM operator and connect an inexpensive tariff plan. In this article, we will consider the most profitable offers from Orange for prepaid subscribers.
Orange is the second-largest mobile operator in the Republic of Niger. It occupies 29.5% of the mobile market as the number of connections has exceeded 1.6 million. The cost of the SIM-card is $1.8 and more; it can be bought in communication shops and at street kiosks.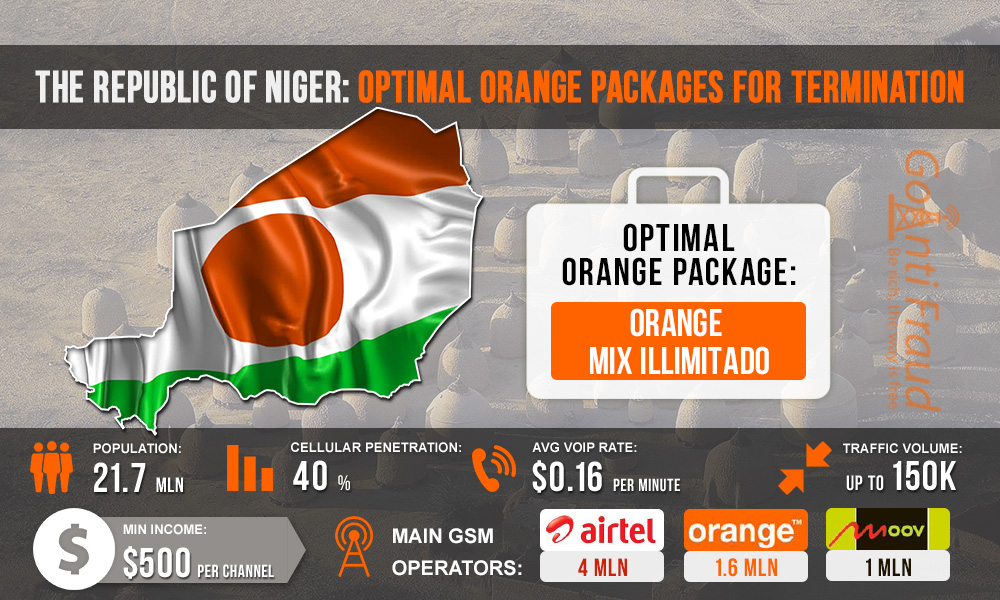 For prepaid customers, there are several advantageous offersб which are suitable for voice termination:
Amintchi. Buying a SIM-card for $1.8, you immediately get $0.46 to your account. Topping up the account for 90 cents, you get a 100% bonus. Calls from 6 p.m. to 7 p.m. are free of charge.
Dubara. For $27.4, the subscriber is granted 100 bonus minutes for calls and other bonuses. After the free minutes are spent, the call will cost $0.1 per minute.
Forfaits tous reseaux. The package includes various bonuses. Forfait 1 provides 10 minutes for calls to the numbers of any operators, the subscription fee is 90 cents. Forfait 2 - 25 minutes for $1.37, Forfait 3 - 30 minutes for $1.83.
Forfaits Orange mix. There are several packages: 10 minutes - for 46 cents, 30 minutes - for 90 cents, 60 minutes - for $1.37. There is also an unlimited Orange Mix for 1 day, the cost of connection is $1.8.
The most profitable prepaid package is the unlimited Forfaits Orange mix. When the equipment is running for 5 hours a day, the cost of a minute of the call is as little as $0.006. At the voip traffic forum, the originators offer $0.16 per minute for termination services on average. Using an unlimited tariff plan from Orange, you can earn approximately $900 from 1 channel of equipment, if you extend the lifespan of your SIM-cards.