The first thing that attracts beginners in Algeria, an African country, is a high rate. The average cost of VoIP minutes varies from 16 to 21 cents. But, in addition to the rate, in order to successfully make money on GSM termination, you need cheap local cellular communication, the opportunity to buy inexpensive new SIM-cards, and sufficient amounts of traffic from originating companies.
As of 2017, the population of Algeria is more than 41.1 million people. At the same time, mobile penetration in the country reached 108% by the end of 2016. Accordingly, the number of mobile connections in Algeria exceeded 41 million, with huge amounts of international traffic concentrated here.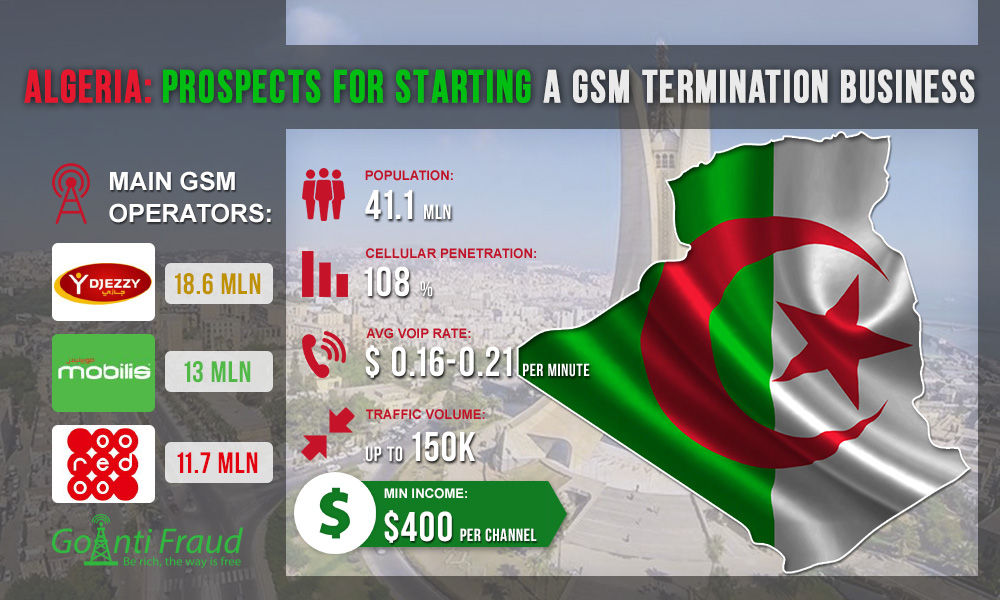 In the market of Algeria, there are 3 cellular operators that actively compete with each other. They are Djezzy (over18.6 million subscribers), Mobilis (over13 million subscribers), and Ooredoo (over 11.7 million subscribers). Due to the high competition among GSM operators, the rates for local cellular calls are constantly decreasing.
The cost of a SIM-card in Algeria ranges from 90 cents to 3 dollars, on average. The maximum cost of the starting package is $9 but it provides an initial credit for the same amount. One minute of the call costs about $0.08, which will allow the terminator to earn about $400 via one channel. By placing multi-channel equipment in different locations, you will significantly increase your revenue. If you provide sufficiently high protection of SIM-cards from analytical and calling systems in Algeria, you can efficiently terminate voice traffic minutes and make good money.