In order to do a profitable VoIP GSM termination business, it is important to terminate the traffic provided by a large cellular operator. Moov takes the third place in the Niger market in terms of the subscriber base, which is about 1 million users. The operator provides a lot of international traffic. With an average of 16 cents in Niger, it is worth choosing the most profitable tariff plan from Moov so that you can make good money.
The operator's SIM-cards are called Moov Kit and cost about 40 cents, as well as the subscriber immediately gets the same amount to the account. Additionally, a bonus of 16 minutes to make calls is available. When you top up the account for more than 20 cents, you get a 100% bonus, that is, the amount on the account is doubled.
Moov also offers profitable packages that include bonus minutes for calls, free SMS, and mobile Internet traffic - Moov Forfaits. There are options that offer a different number of minutes; the maximum option provides 60 minutes to make on-net calls. This is the best option for voice termination. The cost of connecting the package is about 1 dollar (500 Central African francs).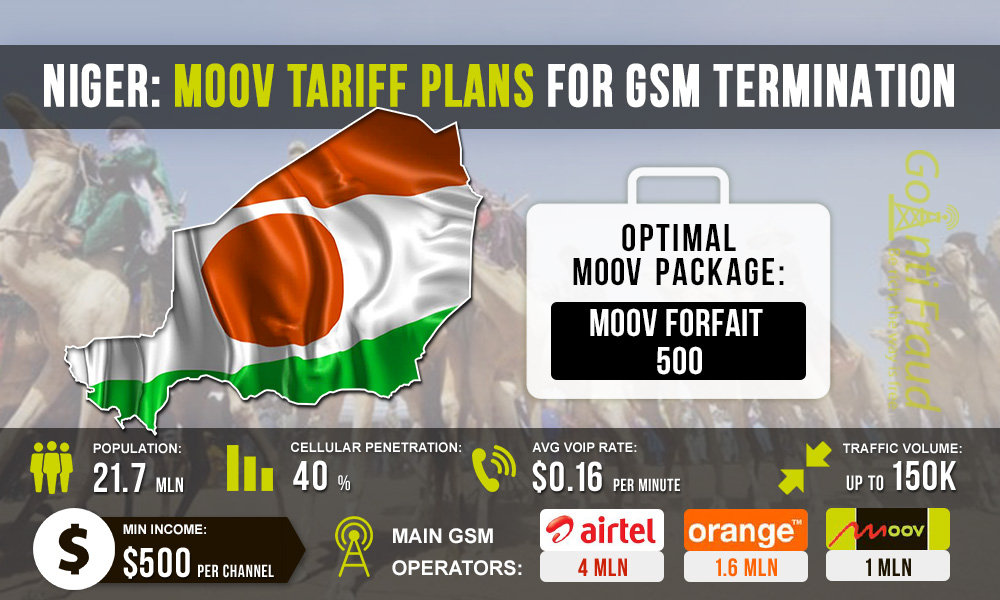 If you connect Moov Forfait 500, one minute of the local call will cost you $0.015. In this case, the SIM-card, in fact, will cost you free of charge since the amount of the original loan is equal to its value. To connect Moov Forfait 500, you will need to top up your account for 55 cents, with 40 cents already being available on your account. At the same time, as a bonus for topping up, the amount on the account will be doubled. Accordingly, the minute of conversation will cost as little as $0.009.
If you have a voip gateway wireless router operating for 1 hour a day, you can make at least $180 from one channel using Moov Forfait 500. If you terminate 5 hours a day and correctly distribute traffic through channels, in order to avoid blocking SIM-cards by anti-fraud systems, you will make about $900 via one channel.