Using the Mobilis brand, Algérie Télécom provides cellular services in Algeria. This is the second largest operator in the GSM market as its subscriber base consists of about 13 million users. The originators offer an average of 18 cents per minute when terminating Mobilis traffic in Algeria. To successfully make money on termination in this country, you should choose a favorable tariff plan.
The SIM-card of this GSM operator costs about 90 cents while the initial credit is $1.8. Starter packages are called Mobtasim and available in branded communication stores, as well as in regular kiosks on the street. To buy a SIM-card, you need to have a passport with you. E Each time you top up your account, you get bonuses. The standard rate for local calls is $0.07 per minute.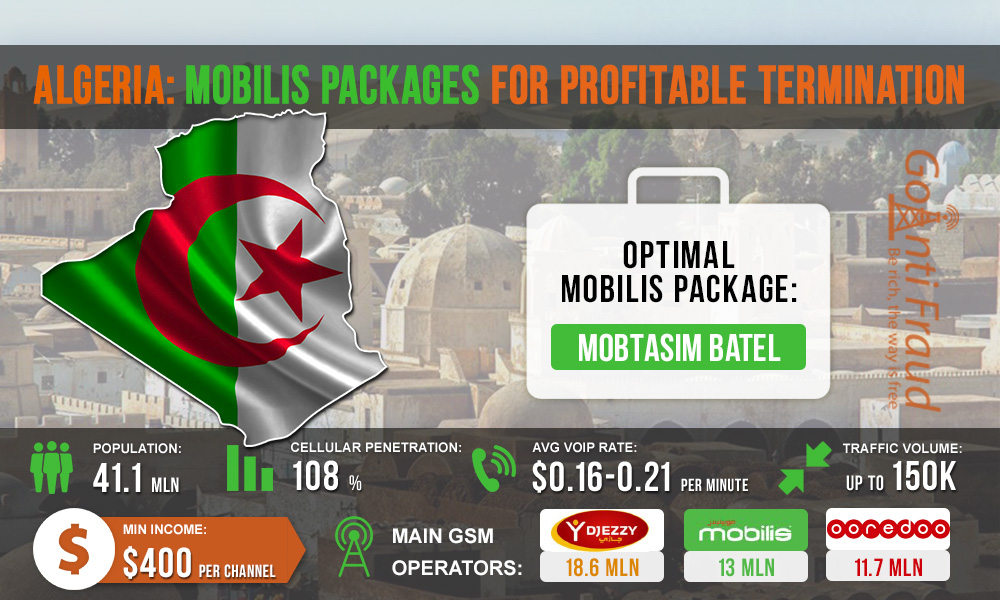 There are several advantageous tariff plans for prepaid subscribers. They are el Khedra packages:
ONE. Provides free calls from 12:00 a.m. to 01-00 p.m. The connection cost is 9 dollars.
TWO. Provides free calls from 11-30 a.m. to 06:00 p.m. The connection cost is 18 dollars.
THREE. Provides free calls from 09:00 p.m. to 05:00 p.m. The connection cost is 27 dollars.
In addition, prepaid subscribers who connected the Mobtasim starter package can choose one of four tariff plans. For the termination, the most advantageous option is Batel. For a $4.5 subscription fee, the subscriber can make unlimited calls to all numbers around the clock within 7 days. When you have the equipment operating for 5 hours a day, the minute of a local call will cost as little a $0.015. Accordingly, using the Mobtasim Batel package, you will receive a minimum profit of about $1,000 via 1 channel of a gsm gateway sip, installed in Algeria.