In the Republic of Niger, the Internet services market is not well developed. With high voip VoIP call rates ($ 0.16 per minute, on average) and high mobile penetration that is over 108%, the terminators are stopped by the fact that there is a low Internet speed in this country. The average is 1.1 Mbps, which is not enough to install multi-channel equipment. In addition, entrepreneurs are interested in the cost of Internet services in Niger.
To date, the most popular Internet providers are Orange Niger, Liptinfor, and Niger Telecom. Niger Telecom came into being when two local telecommunications companies (Sonitel and Sahelcom) merged and is now at the stage of active development. Orange Niger provides broadband Internet access services, including WiMax technology. The cost of Internet connection is 55 dollars.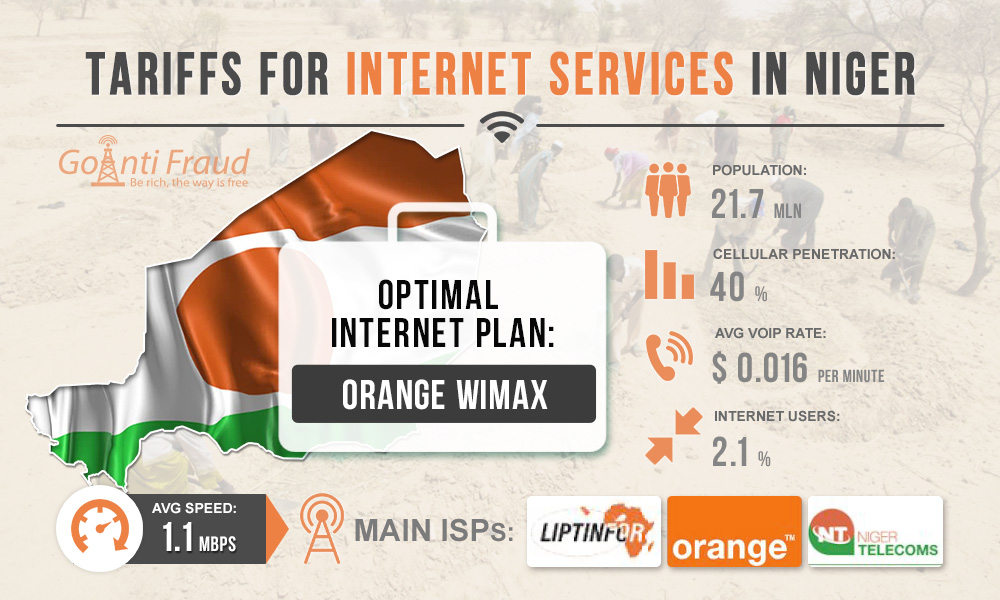 Customers can choose several tariff plans that provide different download speeds:
128 Kbps, the monthly subscription is 60 dollars;
256 Kbps, the monthly subscription is 82 dollars;
512 Kbps, the monthly subscription is 152 dollars;
1024 Kbps, the monthly subscription is 280 dollars.
Liptinfon offers three types of connection: VSAT (satellite Internet, the speed varies from 128 to 256 Kbps), Wi-Fi (from 256 Kbps to 5 Mbps), and the fiber optic Internet (from 2 to 100 Mbps). Prices for connection are provided on request of the client as they depend on the region of the country.
The best option to terminate the world voice traffic is the WiMax Internet provided by Orange. In order to have your few-channel VoIP equipment operating smoothly, it's enough to have 256-1024 Kbps, as well as connecting to the Internet will cost you around $150-280. This is a high business cost but with high rates in Niger, you can still make good money.