If you decide to start your voice traffic termination business in Algeria, it is important to choose a large mobile operator to terminate international calls. Ooredoo is the third mobile communications provider on the market as its subscribers exceeded 11.7 million people. To get good revenue, it's important to choose a profitable tariff plan.
Ooredoo offers services for both contractual and prepaid customers in Algeria. The operator's shops and its dealers sell SIM-cards.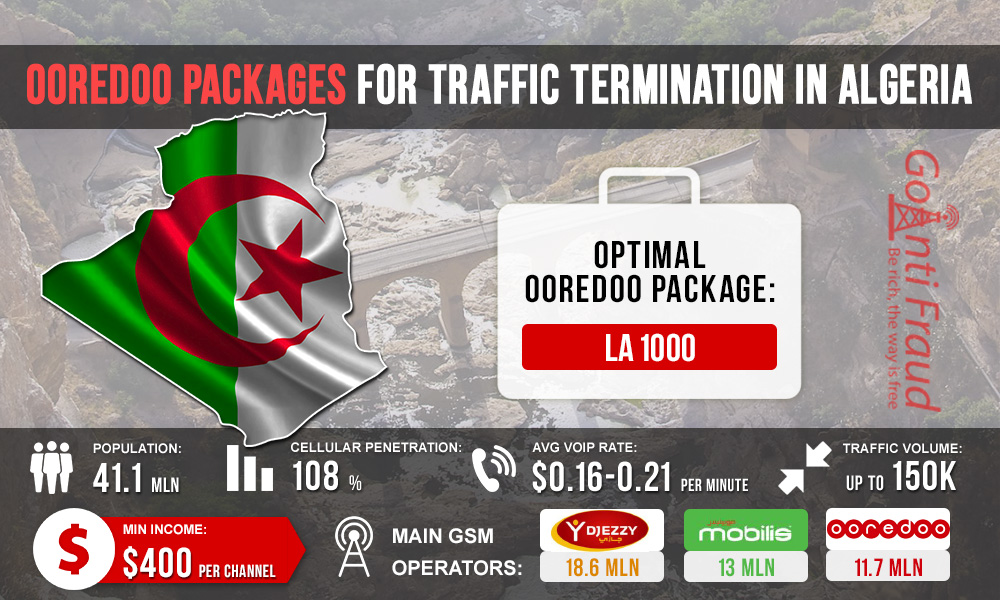 Starting packages are available in several options, with different bonus schemes:
La Plus. The cost is $2.6, the initial credit is $1.8. When you top up your account with $18, you get another 35 bonus dollars.
La 1000. The cost is 9 dollars but you immediately get the same 9 dollars to your account. Additional bonus includes 5 hours of free calls to Ooredoo numbers.
Maxy 1000. It is the package for La Plus subscribers that provides a $18 bonus, if you top up your account with $9, and mobile Internet traffic.
Maxy 2000. It is the package for La Plus subscribers that provides a $35 bonus when you top up your account with $18.
Haya. It provides per-second billing and bonuses for account replenishment.
The optimal option for voice termination of calls is La 1000 package as your business expenses for SIM-cards purchase will be minimum since the initial credit is equal to the cost of the starter package. At the same time, you get the opportunity to make free on-net calls (300 minutes). For every Ooredoo minute terminated in Algeria, the originators are ready to pay 21 cents. Terminating calls for 5 hours a day via La 1000, you will get a minimum profit of $1200. The main thing is to minimize the SIM-block, using the best GoAntiFraud voip systems to bypass antifraud systems.