Saudi Arabia is a country that is actively developing in all spheres, including the telecommunications industry. Many foreign workers come here; therefore, impressive amounts of international traffic are concentrated in Saudi Arabia. Each originator offers an average of 200 thousand minutes to terminate in this country. The terminator can make good money, even though there are low VoIP call rates in Saudi Arabia (about 5-6 cents per minute).
The mobile sector in the country is an important component of the local telecommunications industry. It brings more than 75% of the total revenue from telecommunications. The penetration of cellular communication is about 150%, with the number of connections being more than 48 million, while the penetration level of the smartphone is 65.2%, which is more than 21 million users.
Nevertheless, recently the growth of the mobile services sector has somewhat slowed down, due to regulatory state changes. In early 2016, the government of Saudi Arabia adopted a "biometric law", according to which for the purchase of a SIM card, local citizens and foreigners were required to provide fingerprints. This led to a significant reduction in the number of mobile connections: in 2015, cellular penetration was about 160%, as well as there were more than 52 million subscribers. At the same time, the regulator disconnected the already existing numbers that were valid until 2016, the owners of which did not provide their fingerprints.
Despite this, the terminators have the opportunity to purchase new SIM cards offered by street vendors. These numbers are already registered to other people's names. Moreover, in 2017, the regulator introduced a limit on the possession of prepaid SIM-cards in Saudi Arabia. Foreign residents can only have two numbers, while local residents are allowed to purchase up to 10 prepaid numbers. In this case, the authorities argue that these measures are temporary.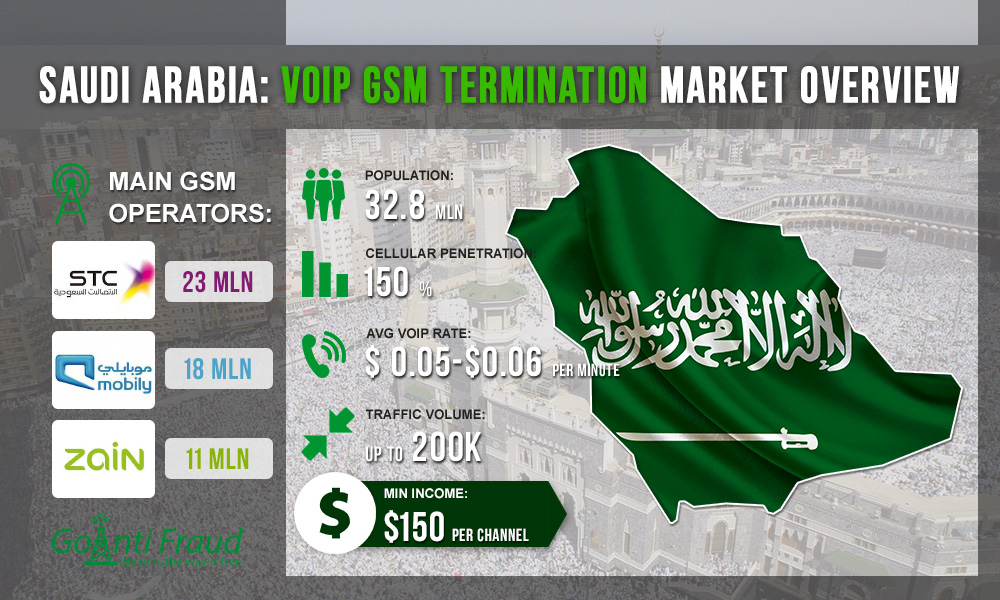 Three largest GSM operators divide the market of cellular communication services in Saudi Arabia. They are STC (Jawwy), Mobily, and Zain. Saudi Telecom, or STC, is the market leader, with a subscriber base of more than 23 million customers. In the country, there are also several MVNOs (virtual operators) since 2014. Among them are Virgin Mobile, Friendi, and Lebara Mobile. Their prepaid offers are the most affordable for foreigners in Saudi Arabia.
All GSM operators provide good coverage, especially in densely populated areas and along motorways. At the same time, in remote settlements, the signal may be weak or unavailable. In terms of GSM coverage of networks, STC ranks first in the country, Mobily - the second, Zain - the third.
The cost of a prepaid SIM card in Saudi Arabia is $6-8, on average. In this case, the subscriber immediately receives a certain amount of money to the account. The average tariff for a local call is about 15 cents a minute but there are lucrative packages from local operators. Using them, a minute of the call can cost you about $0.008. This is enough for you to be able to get a minimum income of $150 via one channel of a VoIP GSM gateway.