Until recently, the Internet services market in Algeria was at a low level of development. Today, thanks to government investments and the efforts of local market players, the telecommunications infrastructure is expanding, with the Internet improving. Terminators can place the gsm gateway for call termination to make money on terminating traffic. But how much will it cost to connect to the Internet?
The largest Internet provider in Algeria is the telecommunications company Algerie Telecom. Under the iDoom brand, it provides Internet access services using ADSL technology, as well as invest in expanding its own fiber-optic structure. At the moment, iDoom offers users a line of ADSL Pro packages with unlimited Internet access. They provide different connection speeds and different tariffs:
MAAKOOL. The speed is up to 2 Mbps, the cost is $90 per month.
MOONASSIB. The speed is up to 4 Mbps, the cost is $160 per month.
MOORIH. The speed is up to 8 Mbps, the cost is $280 per month.
MOOFADAL. The speed is up to 20 Mbps, the cost is $580 per month.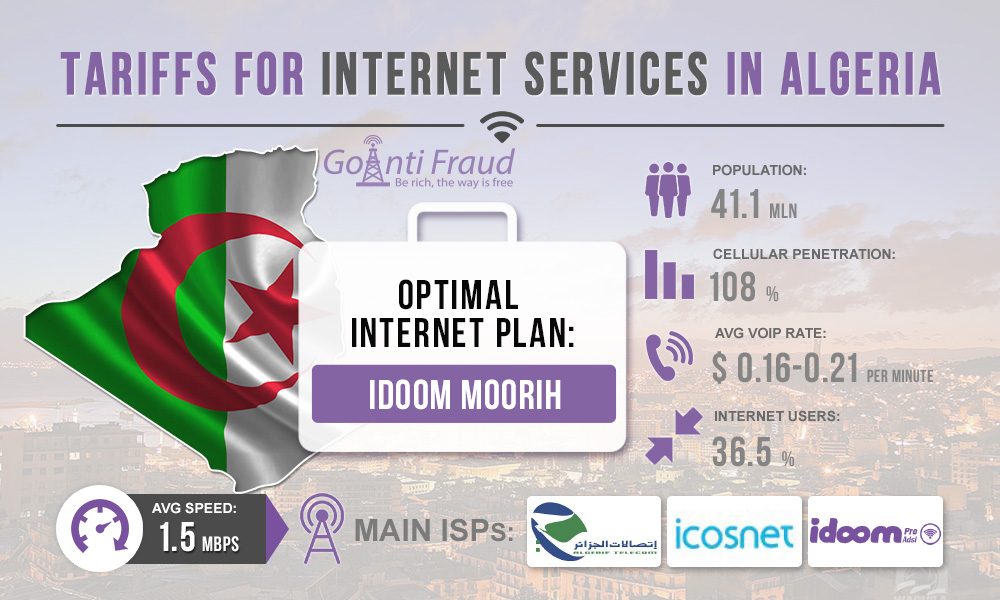 Those are quite high rates, but in Algeria, when you use an efficient voip gsm termination solution, you will be able to make $400 via one channel. Accordingly, business expenses for the Internet will not be too big. The choice of the package depends on how much traffic you plan to terminate and, accordingly, what equipment to use. If you are going to use few-channel gateways, you should use the iDoom Internet plan that provides up to 2 Mbps (MAAKOOL). You will need 42 Kbps per channel is for normal operation of the device. By the ratio of price and speed, the optimal option is the MOORIH package that provides up to 8 Mbps.
In the market of Algeria, there is also an Internet provider Icosnet. It offers the wireless Internet and connection using VDSL technology. There are several packages:
WDSL BASIC. The speed is up to 512 Kbps, the cost is $36 per month.
WDSL PRO. The speed is up to 1 Mbps, the cost is $63 per month.
WDSL PRO +. The speed is up to 2 Mbps, the cost is $108 per month.
Offers from Icosnet are cheaper but the speed is lower than that of iDoom. Choose a provider and an Internet plan in accordance with the amount of traffic that you will terminate and the number of channels involved in the operation.