In Saudi Arabia, there is every opportunity for making money on termination of voice traffic using with a goip 8 - voip-gsm or other VoIP equipment. The mobile sector is an important component in the country's telecommunications market. The popularity of cellular communication services has led to an increase in the use of Internet connections and the growth in demand for broadband Internet access services.
Broadband is widely used in Saudi Arabia. As of 2017, the number of Internet users in the country is about 23.2 million people, which is about 70% of the population. The connection to the Internet is available via ADSL, Wi-Fi, and fiber-optic technologies. At the end of 2016, the SeaMeWe-5 submarine cable system was put in operation, uniting Saudi Arabia and 15 other countries, which had a positive impact on the quality of Internet services.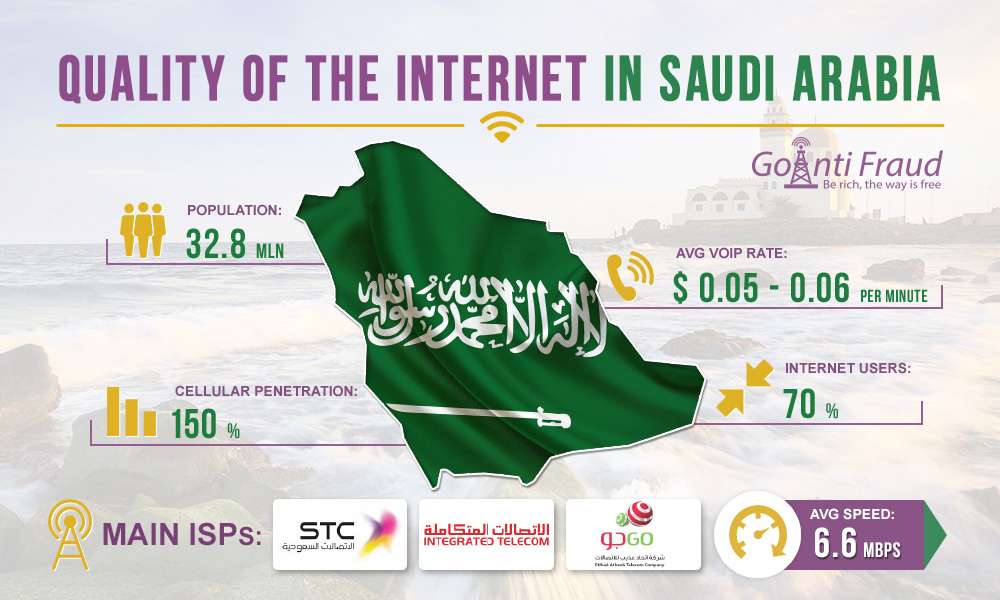 Among the main Internet providers of the country are STC, ITC, and Go Telecom. The average download speed is 6.6 Mbps. In large cities, you can connect high-speed fiber-optic Internet, which is suitable for multi-channel GSM gateways.
VoIP wholesale termination rates in this direction are not too high: 5-6 cents per minute but the traffic volumes offered by originators are quite large: about 200 thousand minutes. In addition, there are low rates on local cellular communication and there is access to high-speed Internet, which allows you to run a profitable GSM termination business in Saudi Arabia.