There is the telecommunications market in Burkina Faso that is considered not very developed, due to the lack of fixed-line infrastructure and low penetration of the Internet. Nevertheless, the mobile sector is experiencing strong growth since in 2000 there was a competition between operators. Cheap cellular communication and a high rate ($ 0.15- $ 0.18 per minute) will allow you to make good money in Burkina Faso if you are going to start your VoIP sip termination business.
Mobile penetration in the country is 81%. This figure is below the average for Africa. However, the number of cellular connections in Burkina Faso is about 15.2 million, with a population of more than 19.3 million people. At the same time, the figure is constantly growing. From January 2016 to January 2017, the number of subscribers increased by 21%, which is about 2.1 million.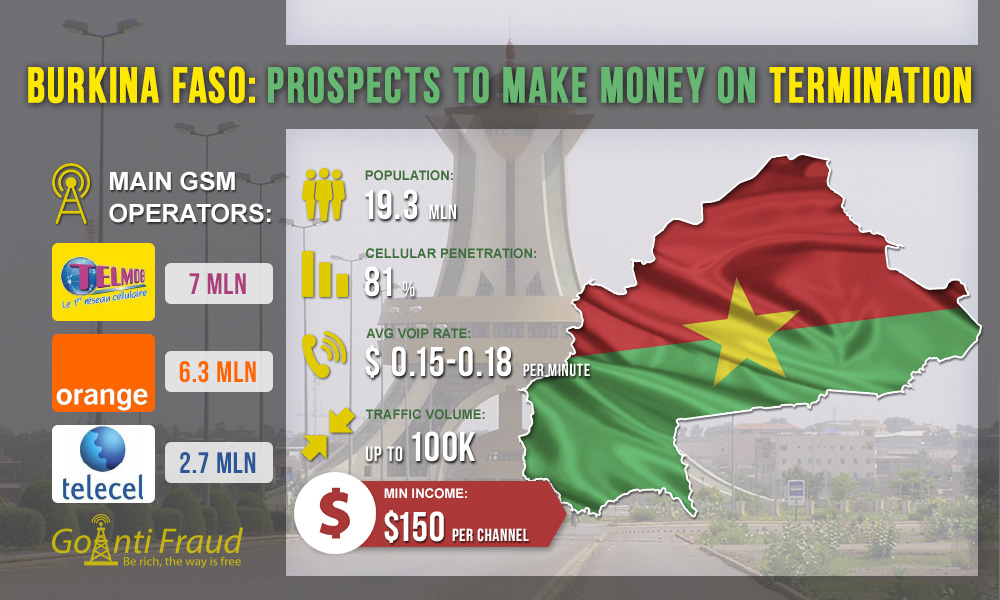 GSM operators have become important players in the telecommunications market of Burkina Faso, due to the poorly developed fixed-line infrastructure. To date, there are three mobile operators in the country:
Telmob (the brand is owned by Onatel. The subscriber base is 7 million users);
Orange Burkina Faso (6.3 million subscribers);
Telecel Faso (about 2.7 million subscribers).
The country provides an excellent GSM coverage, as well as cellular services are inexpensive. The approximate tariff on local calls is 12 cents per minute. However, local mobile operators offer many packages that include tariffs that are more favorable for prepaid customers. The cost of a SIM card in Burkina Faso is about 50 cents, on average. To purchase a starter pack, you need to produce proof of identity. However, street vendors sell SIM-cards, as well as scratch cards to top up the account.
The minimum revenue you can get from landing traffic in Burkina Faso is $150 via one channel. Using a gateway goip-32 gsm VoIP or other VoIP multi-port equipment, you can turn a pretty penny.