If you decide to do the termination of VoIP traffic in Burkina Faso, you can successfully use the Orange SIM-cards for your gateways. Orange (formerly Airtel Burkina) owns about 37% of the local mobile market. The subscriber base consists of about 6.3 million people. There are large amounts of traffic provided by the operator and it offers profitable packages for prepaid customers.
The prepaid Orange SIM-card is called SIM Sons'yam. It is sold for 50 cents in the communication salons and in the kiosks on the street. At the same time, a 55-cent bonus will immediately go to the subscriber's account. If you top up for the first time, an additional bonus of 300% of the replenishment amount is given. The topping up vouchers from Orange are called SapSap and sold in various denominations. They can be purchased at gas stations, shops, kiosks, and supermarkets.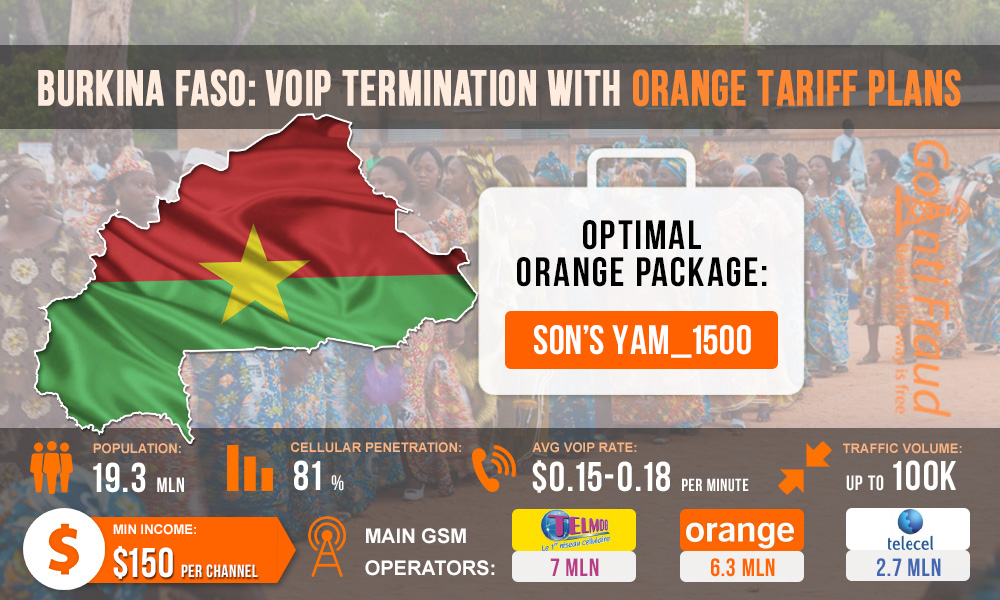 Profitable Forfaits Sons'yam packages are available to prepaid customers. There are combined options, which include minutes for calls, SMS, and Internet traffic. But they provide for a small number of minutes (from 5 to 30) and are quite expensive, given that we will not use Internet access and SMS. In terms of termination, we are more interested in tariff plans, which include only bonuses for voice communications. There are only four:
Son's Yam_400. 30 bonus minutes for 1 day, the cost is 75 cents.
Son's Yam_700. 60 bonus minutes for 2 days, the cost is $1.3.
Son's Yam_1000. 90 bonus minutes for 3 days, the cost is $1.9.
Son's Yam_1500. 120 bonus minutes for 7 days, the cost is $2.8.
The Son's Yam_1500 package is perfect to do profitable termination. Using it, one minute of the call will cost you as little as $ 0.02. In this case, transit operators are ready to pay the terminator $0.15 per minute for terminating traffic provided by Orange Burkina Faso. Terminating 120 minutes a day via Son's Yam_1500, you will earn about 300 dollars via 1 channel of a voip gsm termination gateway. The use of multi-channel equipment will allow you to terminate more traffic and, accordingly, get more profit.