Virgin Mobile is a virtual GSM operator that has been operating in Saudi Arabia since 2014. The MVNO uses the Zain infrastructure to provide cellular services. If you install a call termination system in Saudi Arabia, you can choose prepaid Virgin Mobile packages for your gateways.
Virgin Mobile SIM-cards are sold at $8, with the subscriber immediately getting $6.7. Bundleha tariff plans are available to prepaid subscribers. They provide bonus minutes for calls, SMS, and the mobile Internet. But these complex packages are designed for subscribers who actively use 3G\4G and send a lot of text messages. Therefore, they are quite expensive (from $2.7 to $35) and provide a minimum number of bonuses for calls (10 to 80 minutes). This is clearly not enough for efficient termination, and the cost price of the minute is very high: about 20 cents, with an average rate of $0.05- $0.06.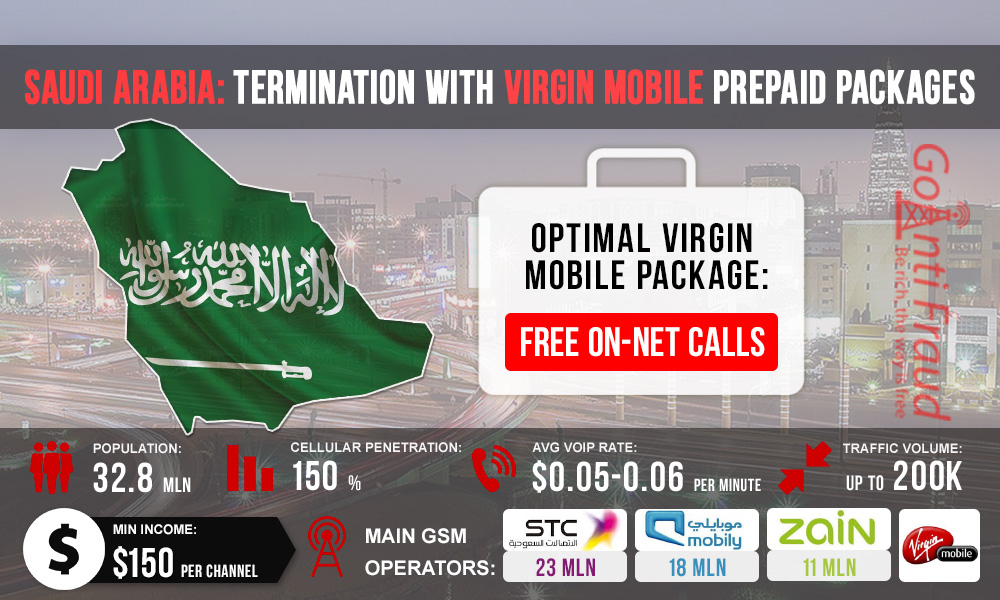 A more advantageous offer in terms of GSM traffic termination is Free On-Net Calls. Virgin Mobile provides its subscribers with a bonus for topping up: unlimited on-net calls. Topping up your account with $2.7, you can call for free to Virgin Mobile numbers. It is better off topping up with the minimum amount ($ 2.7), with the bonus offer to be valid for one day. Terminating 300 minutes a day via Free On-Net Calls, you will make at least $150 per channel. The main thing is to efficiently simulate the activity of a real subscriber on the network so that the cards are not quickly blocked by antifraud systems.